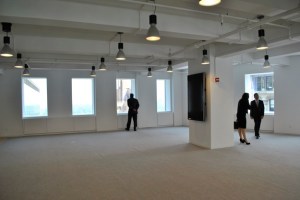 Of late, it appears 3 Columbus may finally have turned the corner. In the past two months, Mr. Durels has entered into negotiations for at least 400,000 square feet, or about two-thirds of the building's empty space. "Because of the building's previous struggles, we had to take some time off, but we really stepped up the marketing, and I think it's paid off," Mr. Durels said. "In this case, we felt we really had to over-developer, but it was worth it."
There is also the fact that with SL Green in control, "we're well capitalized," as Mr. Moinian kept putting it, almost as a mantra. On top of its $258 million stake, SL Green has invested another $100 million in equity matching what Mr. Moinian had already put into the building. It is hard to top two of the city's top landlords. "People immediately respect the changes, it's like night and day," Mr. Durels said.
And in many ways, this is simply the reality of building in New York today. Dozens of retrofits and reclads are taking place in the city, from 330 Madison to 1095 Avenue of the Americas, none with the scrutiny faced by 3 Columbus. Perhaps this is because of the challenges Mr. Moinian faced, his bad timing, or simply that he has the best location of them all, and so everyone was watching. The fact remains, there are only so many buildings that can reasonably be torn down and rebuilt without wreaking havoc on the city's busy streets.
As for Mr. Moinian, in a email on Tuesday he said he would do it all again if he had the choice. "We are very happy with the end result of our redevelopment of 3 Columbus Circle—and we wouldn't do anything differently," Mr. Moinian said. "We are proud of our investment in this building and for perfectly executing our vision for its redevelopment. If the market isn't $100 per square foot, we are fine."