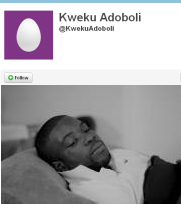 Kweku Adoboli—the rogue UBS trader who worked his way up from a London back-office desk to produce the seventh-largest trading loss in history, $2B—became one of the most notorious names in Financial screw-ups overnight! He's since spend time hoping for a miracle on Facebook, but what does his Twitter account teach us?
Not that much, really. But: some things.
It looks like Adoboli's Twitter account was hacked sometime after he started it, as the only messages he's Tweeted are all spam ads. That said, he does have a few interesting follows:
He may be interested in Middle Eastern politics, as evidenced by his following an Egyptian Twitter account helping get messages out of a telecommunications blacked-out Egypt during the January riots. He also followed Dan Nolan, a Dublin-based journalist who's done work for Al Jazeera covering the Middle East.
He's a CNBC fan, specifically, a Fast Money fan: Guy Adami, Joe Terranova, Pete Najarian, and Jon Najarian are all regulars on CNBC's Fast Money.
He enjoys the musings of this "TubbyTurner1" fellow.
And…that's about it. He also picked up a bunch of followers—including his newly-created fake Twitter doppleganger, @Kweku_Adoboli and the Twitter account of an "Option-Trading Junkie"—but that's more or less it.
Can't say we didn't look. And here, we'd concede that his cached Facebook page—which includes his fandom of The Wire membership to the "Princess Beatrice's ridiculous Royal Wedding hat" fan group—is slightly more telling.
Then again, he could've followed four guys from Squawk Box instead. So there's that.