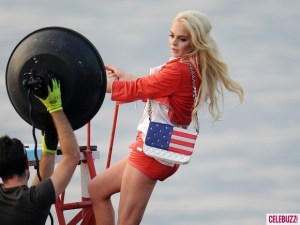 New York's Fashion Week wasn't exactly a picnic for Lindsay Lohan. In a single night she managed to throw cocktails at a cameraman in the Boom Boom Room and a photographer in Electric Room, while also causing a commotion when a woman sitting next to her started bleeding profusely. The next day, she was banned from the Marc Jacobs party, crashed it anyway, and was forcibly removed. The city's tabloids are still having a field day over that one.
But it's been a week and a half. An eternity, really. Surely she's been up to some fresh mischief, right? Well, not in New York — Lohan's skipped town to Milan, where she's doing slightly more than just perusing the party circuit. Designer Philipp Plein chose the embattled star to be the face of his new line.
"Lindsay is a beautiful, highly acclaimed actress and model," Mr. Plein said, in a statement. "We will be able to create unique images: Refined and luxurious, but also full of sensuality."
The gig has kept her busy. She attended the runway show Saturday, and was spotted by The Daily Mail in Bellagio, Italy taking in a shooting on the steps of a villa. Lindsay, you're keeping it together!
So, with her acting career stalled, and no sign of resuscitation on the horizon, has Lindsay Lohan rebranded herself as a damaged go-to muse for artists and designers? T asked the question during the Venice Biennale, when she provided the inspiration for a floating work by Richard Phillips. And she'll have a staring role in the "Well Hung" exhibition, from bad boy artists Maximilian Wiedemann and Tyler Shield, which opens at Imitate Modern in London next month.
All she needs now is a few more high-profile lines to embrace her. Perhaps something later this week, in Paris? Details about Kanye West's show Saturday are still very slim, so who knows what could happen.