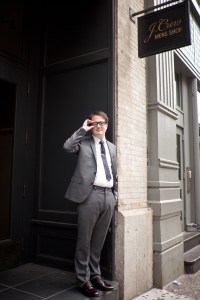 Late into a wedding reception last fall, four male friends gathered around the bar. Like the bride and groom, all four were Dartmouth graduates, guys in their mid-twenties who'd moved to New York after finishing college. Having already been through the most pressing catch-up conversation, their talk turned to matters of fashion: one of them, eyeing another's slim-fitting suit, asked, "Hey, man—is that a Ludlow?"
He was asking whether his friend's suit was the most popular cut sold by J.Crew, the Ludlow. Of course, it was. So was his own. Another of the group piped up that he, too, was wearing a Ludlow. Only the fourth said he didn't own one, unintentionally throwing off the group's sartorial superfecta. Though, judging from the suit's ubiquity of late, it was only a matter of time.
"I remember that conversation!" said Don Stewart, of the Ludlows in the group. Mr. Stewart, 27, works for a digital creative agency. "We were all wearing them, in different materials and colors. But the cut of it was kind of unmistakable."
"Hey, man, is that a Ludlow?" has become a mantra among a certain stripe of young New York professional guy. Mike Vilensky, 23, a reporter for the Wall Street Journal's Heard & Scene page, has heard it, too, when he debuted his Ludlow at the National Book Awards. "That's how I realized people who are Ludlow recognize Ludlow," Mr. Vilensky said. Most Ludlows take a unique delight in acknowledging one another as kindred spirits; the last item of menswear that inspired such loyalty and instant identification may well have been the Members Only jacket. "People say that if you're a drug addict, you have a sixth sense about who would want to party with you—people who wear Ludlows maybe know who else would own a Ludlow," Mr. Vilensky said. "It's become that kind of club."
James Meader, 32, runs the publicity department at Picador and was, when The Observer reached him, wearing a gray Ludlow while driving to a wedding in Kennebunkport. "We're certainly not talking Cary Grant's suit from North by Northwest, but J.Crew has come up with a basic, understated suit, and I like that," Mr. Meader said.
The Ludlow is, indeed, a nice suit, with vaguely Mad Men dimensions: the trousers are narrow, and the single-breasted iteration of the jacket has a two-and-a-half-inch lapel and rounded front corners. In addition, several elements are, discreetly, flattering: a lightly padded shoulder, which lends a more masculine silhouette, and a shorter-cut jacket, which makes men look taller.
It isn't a bespoke suit—though with proper tailoring it might fool an untrained eye—and it isn't exclusive. In fact, it's just a good-looking suit from a mass-market retailer. That may be exactly why it appeals to the Ludlow brotherhood: it's cool, but not dangerous. "It's a well-fitted suit," Frank Muytjens, the head menswear designer for J.Crew, said simply. "It is skinny, but not too skinny—it is still socially acceptable. And it's still a modern suit without it being too edgy or too trendy." It's not Thom Browne, but neither is it Men's Wearhouse.
"Too edgy" is a genuine concern for the young Ludlow, who tends to look put-together but not be overly concerned with men's fashion. The Ludlow is the first suit many young New York men buy on their own, after years of boxy hand-me-downs from their fathers. "It's the first suit I've ever owned where I'm like, 'This suit fits,'" said Raphael Pope-Sussman, 23, a reporter for a policy website. "I don't look like I'm at my own bar mitzvah."
"I was sold the minute I put it on," said Dave Cirilli, 34, a publicist with Sunshine Sachs who bought a Ludlow tuxedo for the Golden Globes. "I went, I did it, it was perfect; it almost felt like fate." With the tux on, he said, he feels "a little bit more badass."
Beyond the cut, though, the brotherhood of the Ludlow is about the experience. "I think a lot of smart-dressing younger guys have this fantasy of going into an old tailor shop and ordering a suit. The smaller space, the expertise of a real tailor, the wood paneling, all that. The reality is, that sort of experience is out of their price range," suggested Darrell Hartman, who sometimes writes about menswear (but does not own a Ludlow). "For a lot of guys who go into the J. Crew men's shop in Soho, buy a Ludlow suit there and then have it altered for them, there's a satisfying version of independent tailor-shop experience.