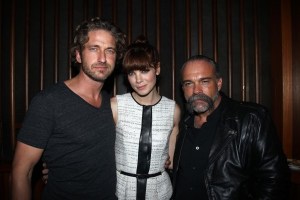 Yesterday evening, The Observer went to MoMA to see  Gerard Butler's latest flick, Machine Gun Preacher. The movie is based on the true life story of Sam Childers, an ex-biker gang member, turned preacher, turned African orphanage builder, turned one-man mercenary. Mr. Childers was in attendance last night, sporting steel-toed boots black jeans, a leather jacket and his signature handle bar mustache.
The Observer talked to him about the film and what it was like to see his life played out on the big screen. "I wake up every morning thinking I'm dreaming. You know I'm a hillbilly from Pennsylvania and I woke up in the Trump Plaza or the Trump Hotel this morning. That's a dream to me," he said with a distinctive country twang. We asked how Mr. Childers explains his incredible transformation from violent junkie to African activist. "To Christ," he said simply. "I mean I wouldn't be here today if god wouldn't have helped me and got a hold of me," he added. Although supposedly he was quite wary of making his life into a movie when initially approached by producers, Mr. Childers seemed quite at home on the red carpet, schmoozing with the actors and chatting up reporters.
The Observer almost didn't recognize the the film's co-star Michelle Monaghan who appeared, sporting red locks done up in a high bun with bangs.  She eagerly talked about the film and how it changed her life. "I spent a lot of time with Sam and Lynn," Ms. Monaghan said, speaking of Mr. Childers and his wife.  "You realize they're coming from a very very small town… It's really just a matter of being able to realize that you can make a difference. Somebody from such a small background, in the middle of Timbuktu, is going over there and affecting the world," she said, eyes sparkling with admiration. She then dutifully promoted Mr. Childers' charity, Children of East Africa. "And whether its just donating five or ten bucks, twenty bucks, to Angels of East Africa, do that.  Maybe helping out in your own backyard or your own community, do that."
Gerard Butler's appearance at the venue was made evident by the thousands of flashbulbs and screaming photographers. Perhaps Mr. Butler was channeling his character as his ensemble looked suspiciously similar to Mr. Childers'. Although we imagine that his black leather boots, tight-fitting jeans and perfectly distressed leather jacket probably came from Barney's, not rural Pennsylvania.
Mr. Butler denied reports that he had received death threats for the film. "That never happened," he told the bevy of reporters. " I think they misunderstood or they had a late night before, but I don't remember getting any death threats… Maybe just for a bad performance," he added.  With that strange comment we headed into the theater.
Mr. Butler introduced the film, sputtering on awkwardly for fifteen minutes in what could have been a parody of an Oscar's acceptance speech gone awry ("Am I forgetting anyone? Oh yeah, my co-stars!" etc.. ). The film got started with much clapping and hooting from the audience.
The film details Sam's transformation from a biker in rural Pennsylvania to an aspiring activist in South Sudan. Unfortunately the directors chose not to explain the conflict, choosing instead to brush over the important details and show semi-repetitive gory fighting scenes instead. Both Mr. Butler and Ms. Monaghan gave good performances, particularly Mr. Butler who captures the different dimensions semi-crazed Childers.  That being said, the religious theme complicated an already overworked plot and the action-driven African sequences took away from the real issues the film strives to address.
After the party, guests walked down to the Royalton hotel where abundant food and abundant drink were consumed. People generally seemed to like the movie, several claiming however that it was too heavy for their liking. The film can count Paul Haggis among its supporters, however. We caught up with the director as he was walking into the after party. "I loved it! Very powerful!" he said. "Gerry was great! so was Michelle," he added   enthusiastically before walking back to enjoy the fete with his date.
Guests ate, drank, and listened to retro-inspired tunes as the night went on. We left after a spell, hoping the film wouldn't give us nightmares.