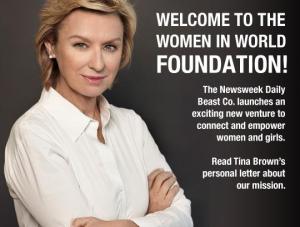 Newsweek
and The Daily Beast have hired Abigail Pesta,
Marie Claire
editor-at-large, to serve as editorial director of women's issues, including content pegged to the expanding 
Women in the World
initiative,
The Observer
has learned.
Tina Brown's Women in the World Summit, conceived of in 2010 and programmed by Kyle Gibson, is slated to occur for the third straight year in March 2012. Last night, The Newsweek Daily Beast Company made Women in the World an official foundation at a kick-off gala co-hosted by Meryl Streep, late Newsweek publisher Sidney Harman's wife former Representative Jane Harman and the Fashion Week-weary Donna Karan and Diane von Furstenberg, among others. The foundation president is Kim Azzarelli, a former vice president of Goldman Sachs in the office of corporate engagement, which includes the Goldman Sachs Foundation and the Goldman Sachs Signature Project: 10,000 Women.
Ms. Pesta, who has held various positions at The Wall Street Journal and Dow Jones in New York, Hong Kong, and London, is known for bringing her hard news experience to the features sections of women's magazines. Prior to Marie Claire (which is helmed by Joanna Coles and more than dabbles in serious journalism) she launched Mariane Pearl's column at Glamour.
It's unsurprising that
Newsweek
is throwing its weight behind Women in the World. Similar events and foundations have provided lucrative ancillary revenue streams at other general interest magazines.
The New Yorker
has its eponymous and celebrity-studded festival, and
The Atlantic
teams up with the Aspen Institute at its annual Ideas Festival.
But what does does Women in the World need with a seasoned news and features editor?
Women in the World will have a large editorial presence across Newsweek Daily Beast platforms, according to a Power Point presentation obtained by The Observer. There will be a branded vertical on the Daily Beast, dedicated content in Newsweek and on Beast TV, as well as a Women in the World magazine and a Women in the World books imprint. (Beast Books was launched in early 2010 as a kind of Daily Beast version of Kindle Singles, plus paperback editions, and has published Wingnuts, by Jon Avlon, The Violence of Peace by Stephen Carter, and Angel Face by Barbie Latza Nadeau.)
The first Women in the World Book, published yesterday, is a Liberian civil war memoir called Mighty Be Our Powers, by Leymah Gbowee.