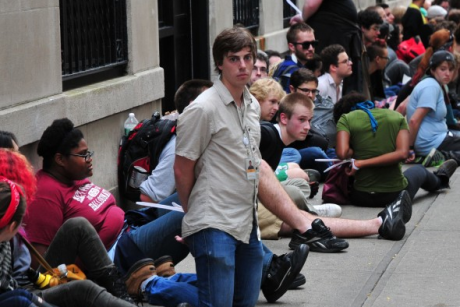 (Though not all-inclusive, this page will be updated regularly. Have a suggestion? Leave it in the comments!)
Two months in, Occupy Wall Street media coverage has swelled from a fringe movement to the importance of a daily beat. To guide you through this media saturation, the Observer presents the best stories and angles from the worldwide OWS news desk, including coverage of the media "blackout" when the protests began in September. (But be sure to check out our coverage as well.)
October 31
The New York Times "With Generators Gone, Wall Street Protestors Try Bicycle Power"
October 11
The New York Times "Want to Get Fat on Wall Street? Try Protesting"
October 4
Mother Jones "From Oakland to Melbourne, Over 2,000 Occupy Arrests (Map)"
The Media Blackout
While supporters can no longer complain that there is a media blackout on "Occupy Wall Street," here's a timeline breakdown on some of the bigger media stories about the media's noncoverage of the movement from September.
September 17th (1st day of protest):

ABC blog: "Protesters Begin Effort to 'Occupy Wall Street'"
CBS Local: "Demonstrators From Across Nation Descend On NYC To 'Occupy' Wall Street"
Bloomberg News: "Protesters Converge on Lower Manhattan, Plan 'Occupation'"

New York Daily News: "Protestors joined by social media rail against Wall St. greed – forcing NYPD to lock down streets"
Even Fox News had a story the first day: Demonstrators 'Occupy Wall Street' to Protest Influence of Money on U.S. Politics
September 18th (2nd day of protest):
(A slow Sunday for the MSM.)

Huffington Post: NYPD Shuts Down Wall Street
September 19th (3rd day of protest):
Bloomberg News:  "Wall Street Areas Blocked as Police Arrest Seven in Protest"
The Guardian: "Wall Street protesters: over-educated, under-employed and angry"
The New York Times: "Wall Street Protests Continue, With at Least 6 Arrested"
The New York Observer: "Wall Street Faces the Wrath of Anonymous During Weekend Protest"
But with all that print news, it still took the networks a little longer to catch up. On September 20, Dylan Ratigan had a correspondent try to talk to the people involved, using the protests as a jumping off point for a roundtable discussion about America's economy.

One day later, Keith Olbermann took to CurrentTV to complain about the media blackout over the protests, and then called the institutions who were covering it a "piece of a crap." *Cough Cough*
Michael Moore came on Mr. Olbermann's show two days later to complain on the media about the media's blackout.

So we guess by Mr. Moore and Mr. Olbermann's own definition, it wasn't until Lawrence O'Donnell's wrathful indictment of the NYPD and Deputy Inspector Anthony Bologna on his September 26 broadcast that the media blitzkrieg really started. But even when the shows started interviewing protestors, they were more focused on the actions of the police than what the protesters were fighting about.
Honestly, who could blame them? The collective known as Occupy Wall Street wasn't just one entity, but a collection of many different organizations and ad hoc groups, making it harder for the press to identify what, exactly, these people were protesting. Gina Bellefante from The New York Times took a pretty critical view of the entire spectacle in an article that ran on the September 23, summing up the protest as a cause that was "virtually impossible to decipher." She was missing the point, but the lack of a singular game plan or argument for the protesters baffled a lot of the media.
Then there's the blurry boundary between citizen journalism and the protestors themselves: John Farley of MetroFocus was detained and put in a jail cell for nine hours after he went to cover the September 24 protests. Wonkette's Riley Waggaman has reported live from the scene, but admits that he supports and identifies with Occupy Wall Street's ethos on corporate America. It's hard to remain a disinterested party when you keep getting mace in your eye, which leads to a somewhat OWS-skewed perspective. On the other side of the coin we see protestors like Nathan Schneider from Wagingnonviolence.org handling the P.R. for the OWS at their DIY press center while writing pieces for The Nation and the Huffington Post about the occupation. Objective journalism, this is not.
And then there were the comparisons: Was this how the lefties did a Tea Party? If so, the media certainly weren't treating the two with equal coverage, argued Anthony DeRosa at Reuters. Open-source guru Tim O'Reilly was actually surprised that the Tea Party wasn't attending Occupy Wall Street, since both organizations are (theoretically, at least) against the government taking money out of the hands of small business owners and using it to bail out banks. He also didn't like the way those damn kids dressed.
The protests have also been compared to hippie festivals like Bonnaroo and Burning Man, as was suggested in Thursday night's this Daily Show clip.
But it was OWS's self-comparison to the Arab Spring uprisings (since they both relied on new forms of social media activism) that drew the chilliest reception over at The Wall Street Journal:
In Egypt, Yemen, Tunisia, Syria and Libya, young people put guns in their hands and their lives on the line. They dropped the keyboards after their Internet access was cut off. In contrast, America's Arab spring looks more like hibernation. It begins and ends with a social-media discussion thread.

That could change, of course, if the kids simply stop grumbling with their Facebook friends. They might try going out and taking it to their enemies.
Which, ironically, is exactly the one thing OWS did accomplish successfully: Taking it to the streets and organizing an IRL meet-up to face the enemy…or at least a national symbol of it…on Wall Street.
Finally fed up with the media's treatment (or lack thereof), Arun Gupta of The Indypendent started his own newspaper, The Occupy Wall Street Journal, which debuted Saturday, October 1.
Currently there are almost as many reporters covering OWS as there are actual protesters. Even Fox News has got in the game, though their attempts to dismiss the assembly by editing their interviews had quite a backlash. Greta Van Susteren was forced to comment after the New York Observer revealed an un-aired interview with an advocate.
The New York Times has also changed its tune, putting coverage of the protests on the front page of the paper. This may be due to the Brooklyn Bridge march that lead to over 700 arrests…and the fact that cuffs were slapped on one of their own freelance reporters. Gawker's Adrien Chen was allowed to go through.
Andrew Ross Sorkin from Dealbook made a surprisingly persuasive argument for OWS being more than "street theater," saying:
At times it can be hard to discern, but, at least to me, the message was clear: the demonstrators are seeking accountability for Wall Street and corporate America for the financial crisis and the growing economic inequality gap.

And that message is a warning shot about the kind of civil unrest that may emerge — as we've seen in some European countries — if our economy continues to struggle.