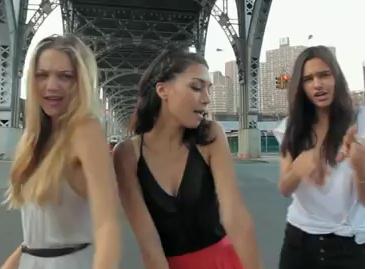 There have been approximately a billion lip-dubs and parody videos for Jay-Z's "Empire State of Mind" since the track dropped in 2009, but leave it to Jay himself to make the best use of his own song. Jay-Z's website Life + Times kicked off Fashion Week by getting some of the world's most famous models to lip-dub the song in various outdoor New York locations.
We're not sure exactly what this video is promoting (Fashion Week? Life + Times? New York? Pretty woman?) but that's what it makes it perfect: if it's selling us something, we can't tell what it is.
After a couple of views we started to recognize some of the more famous runway figures (Jourdan Dunn, Karlie Kloss, R'el Dade), and made a directory for the ladies and some of their recent campaigns; the caliber of the cast's sheer ubiquity is impressive. We can't promise you any of these women's phone numbers, but at least you'll know what they've worked on. Happy hunting…and we mean that in the least creepy way possible.
Note: Missing from the slides are models Paris, Kaitlin, Kelsey Rogers, Lina, & Tian.