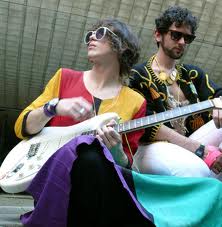 According to an announcement on the Guggenheim's web site, MGMT will give a "unique musical performance" in November. Twice.
Past musical performances at the Guggenheim include Animal Collective and The Walkmen. They'll perform November 10 at the Guggenheim International Gala–which already has its own charity auction at Phillips–and again on Friday for a public performance. Control yourself, kids.
The Gala will celebrate the opening of the Maurizio Cattelan exhibition, All. Of course, this raises questions as to whether MGMT is Mr. Cattelan's favorite band. We don't necessarily see the immediate connection between the radio-friendly group that once sang "Ooh girl/Shock me like an electric eel" and the subversive art of Mr. Cattelan, who has done things like afix a replica of the Hollywood sign to a hillside in Sicily or create a figurine of Hitler in the position of innocent prayer.
That said, MGMT's performance on Jimmy Fallon, where the Guggenheim shows were first announced, is pretty awesome. There are bubbles. And a fog machine.