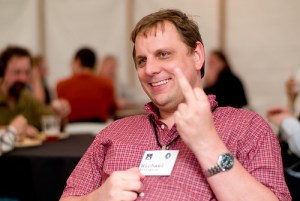 It was already apparent from headlines like "The Tech Press: Screw Them All," but TechCrunch founder Michael Arrington is rather fond of the phrase, "I'm not a journalist." No matter that the blog he founded dominates the sphere of reporting he adamantly disavows. This made itself apparent back in April when Mr. Arrington announced that he would restart his career as an angel investor in startups, even as he continued to write about them for his influential blog. With disclosures, of course.
AOL, which purchased TechCrunch back in September, was forced to issue him an exemption to the employee code of conduct.
Last week, Mr. Arrington bucked conventional ethics once again when it was reported that Mr. Arrington would be launching a $20 million dollar venture capital fund to (wait for it!) invest in startups like the kind covered on his blog. The list of investors in the fund reads like a cast of regulars from the webpages of TechCrunch. Venture capital firms like Kleiner Perkins Caufield & Byers, Greylock Partners and Sequoia Capital plunked down $1 million a piece, along with a who's who of hot Internet investors like PayPal's Marc Andreessen, Digg's Kevin Rose, and Russian web billionaire Yuri Milner. The only head-scratcher in the bunch was the fund's leading limited partner: Mr. Arrington's employer, AOL, which is reported to have put up half the fund's capital.
Where most media outlets would be tripping over themselves to erect a firewall between their editorial and investment arms, Mr. Arrington and his employer courted controversy by naming his $20 million pool of money CrunchFund, after his blog, naturally. Old school media got their journalistic standards in a wad and were only too happy to give Mr. Arrington the attention he sought.
In The New York Times, David Carr wrote, "As business reporters, we are often pressed up against the glass, watching as others take risks, make investments and build companies. We are observers, not players. But the froth and money sloshing around has reached a whole other level, and looks enticing no matter what side of the glass you are on. Michael Arrington kicked a hole in the glass." Crash! Ka-pow! Mr. Arrington's own employee had a more aggressive description, calling the brouhaha (Arrington-gate, in unimaginative parlance), a "nuclear situation."
It didn't help matters that AOL's major players, from CEO Tim Armstrong to Arianna Huffington, issued a shifting Rashomon-like narrative of what exactly Mr. Arrington's role would be.
"TechCrunch is a different property and they have different standards. We have a traditional understanding of journalism with the exception of TechCrunch, which is different but is transparent about it," said Mr. Armstrong, who claimed Mr. Arrington would report to Ms. Huffington. The next day, a spokesperson issued a correction, saying that Mr. Arrington would be moved over to AOL's venture arm, but still blog, adding, "It's just very important to be really clear about the exact specifics." The nuclear mushroom cloud apparently extends all the way to Brazil, where Mr. Carr—the only journalist who has been able to reach Ms. Huffington—located her while she searches for Huffington Post partners. "David, honestly, don't be silly," she told Mr. Carr. "It is very, very clear that they are distinct entities and Michael will have no influence on coverage."
The Transom tracked down two securities lawyers trapped in their offices over the holiday weekend to close a deal. Both asked Transom if we were too young to remember R. Foster Winans, a Wall Street Journal reporter behind the "Heard on the Street Column" who served nine months in federal prison in the eighties for sharing company information with his friends before it appeared in the column. But both lawyers also suggested that restrictions on securities were more likely to come into play in the act of raising money for the fund, which has already closed, than whether or not Mr. Arrington would have unfair access to deal flow.
But according to Greylock's Reid Hoffman that deal flow is a big part of the reason the firm invested. "As many tech entrepreneurs read it — both within Silicon Valley and globally — and view the information news feed to be their target for announcing themselves to the world, Crunchfund will have access to deal flow to these diverse and early stage companies. Some of these companies will be the kind of early stage companies with billion-dollar potential that Greylockinvests in," he told AllThingsD's Kara Swisher.
Some remain dubious about whether Mr. Arrington's feared status and access to deal flow will give him an upper-hand in picking winners. Shortly after the fund was announced, former Business Insider writer Dan Frommer recalled Mr. Arrington's brush with an ill-fated Linux-based tablet computer with the unfortunate name, tweeting, "Lastly who says Arrington is going to be good at picking investments, anyway? Dude was 5 minutes away from backing the JooJoo."