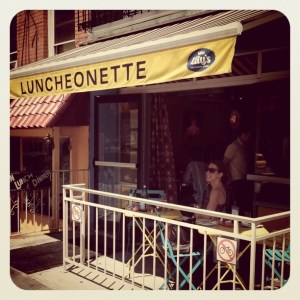 Last Sunday, The Observer was at Milk Studios, in the Meatpacking District, to see a presentation by The Lake & Stars, a Brooklyn-based lingerie line. The models stood with unflinching faces, wearing nothing but nightgowns and skimpy underwear, as a man served rum-spiked horchata from a wooden wagon. Editors chatted up other editors about the next day's runway schedule. Jared Leto posed for pictures wearing a sleeveless Joy Division shirt. In other words, it was Milk during Fashion Week
After a few more free cocktails, it was late. We made plans with two fashion writers to grab food. We suggested Miss Lily's, a Jamaican luncheonette on Houston Street. One of the girls texted her friend an invite. Too late: the friend was already there.
Such coincidences have become commonplace at Miss Lily's, which has accrued no shortage of buzz in the few months since its March opening, despite a modest façade and an interior—tiled floor, Kingston-style counter, framed reggae records on the wall—that's more Crown Heights than Crosby Street.
And now, with the completion of that annual circus of cocktails and couture that is September Fashion Week, this tiny jerk joint has become a meeting place for designers, models, and kids on the scene, despite never having hosted an official after party.
"There's not a hundred restaurants in New York like Miss Lily's—there's a handful," Scott Lipps, who has brought models from his ONE Management to the restaurant a lot as of late, told The Observer. "It's become one of the destination places of the last few months. It's Bar Pitti, it's Kenmare, it's Miss Lily's."
The models, they can't get enough of the place! Fashionistas talking about the Rodarte collection over oxtail stew—how charming! And it doesn't hurt that all the servers are gorgeous, leggy West Indian lasses, in case you questioned the authenticity of the place.
So it's funny that Anna Wintour—the week's undisputed queen and still uncontested arbiter of all that is stylish—wants the place shut down very, very badly.
BEFORE MISS LILY'S OPENED adjacent to Ms. Wintour's West Village apartment, the connection between the Vogue editor and the island country of Jamaica was limited to her alleged affair with Bob Marley. That changed when she got word that Serge Becker, proprietor of Nolita hotspot La Esquina and its celeb-friendly "secret" downstairs, would be staking claim to the dormant space that borders her building's private garden.
Ms. Wintour was a bit irked, but if you'd expect the editrix to sic one of her harried assistants over to protest the restaurant, you'd be underestimating how much she cares about this place's demise. There are just some tasks that can't be entrusted to an underling.
"I am completely concerned," Ms. Wintour said at a Community Board 2 committee hearing, held at Shrine Church of St. Anthony of Padua in June 2010 , with her 24-year-old son Charlie by her side. "This is a unique historic neighborhood. I'm also concerned for the safety of the kids here."
The majority in attendance voted with the editor, but in the end, Anna was thwarted—Mr. Becker succeeded in opening his restaurant, and that corner of Houston is a tad livelier because of it. Much to the editor's continued chagrin, the place did indeed become an eatery by day, party by night, hosting late-nite bashes in backroom, dub jams blasting as the disco ball spins.
And last week, with Fashion Week about to begin, Anna had another run-in with the guys behind Miss Lily's. Ms. Wintour was lunching with her daughter, Bee Schaffer, at Da Silvano, an Italian place a few steps away. In a Page Six item that ran last week, Binn Jakupi and Genc Jakupi, the brothers who co-own Miss Lily's (Mr. Becker is the creative director), were enjoying a meal when a model walked by (models everywhere! Oh, this week.) The model recognized the brothers from Miss Lily's and came over to tell them how much she liked the restaurant. Ms. Wintour overheard them.
"Disgusting," she muttered.
SO WHAT IS IT ABOUT this otherwise innocuous place that's riled her so? When The Observer walked into Miss Lily's last Sunday, a striking Jamaican woman in a leopard print dress came to greet us, took our name down, and directed us to the bar while we waited. We ordered a Carib lager, and looked at the men and women. Was that a look sheet from the same show we went to earlier? And that tan girl, in he back room—had we just seen her somewhere, maybe at Milk?
"It's been a fun crowd—everyone is excited about Fashion Week, of course," Genc Jakupi told us as he took care of a drink order. He wouldn't discuss anything about Anna.
In Ms. Wintour's defense, the past lives of the Jakupi brothers—who have more experience with bottle service than bussing tables—suggest Miss Lily's may ultimately have more on the menu than cod fish fritters. Binn once manned the door at Meatpacking celeb den 10AK, and his brother Genc did the same at The Box, another one of Mr. Becker's properties. Though the chef is no nightlife guy: Bradford Thompson trained under dining god Daniel Boulud, and was named one of Food and Wine's best new chefs in 2004. Plus he's married to a Jamaican woman, so we assume she's keeping his cooking honest.
The food is very good—if that matters. The one Carib beer turned into two, and after plates of jerk chicken, a bowl of ceviche, and a creamy dip with ingredients we couldn't identify even after asking the server, we were more than sated. We paid the check and walked out to find the familiar-looking tan girl outside with her group of friends.
"Oh, that's Inga Eiriksdottir," our friend whispered in our ear. "We just saw her, at Milk, in the Lake & Stars presentation."
We walked up and introduced ourselves, happy but not surprised—I mean, where else would an Icelandic model go after a show, but Miss Lily's?
And don't freak out, Anna Wintour, but this isn't Inga's first time at the place.
"We're VIP because of her—she's a regular," said Inga's friend.
"It's true," Ms. Eiriksdottir said. "We're treated like royals."
Then she said goodbye, and sashayed down Sullivan Street, right past Ms. Wintour's apartment, as if it were a runway.