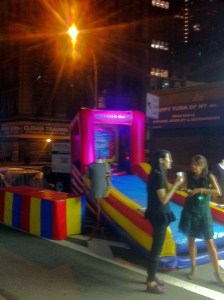 Fashion's Night Out is finally, mercifully over. And yet: the memory of our brief time at The Ace Hotel's carnival—sponsored by uber-hip, spendy boutique Opening Ceremony (who has an outpost in the hotel) held court with a full carnival and a prominent Muppet—is still burned into our brains.
Approaching Broadway between 28th and 29th, noise blared around the corner: as was the case from the year before, as-pricey-as-it's-hip clothier Opening Ceremony set up a carnival outside of The Ace Hotel. This year, however, they brought in actual carnival games, where a $3 investment could win you anything from a shirt to a nylon Opening Ceremony tote; if you were especially lucky, you could win an Opening Ceremony stuffed animal.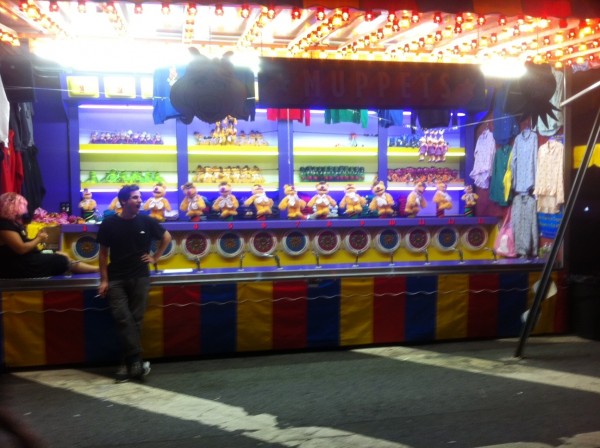 Onlookers warily approached the booths, cautious out of concern for time—the line to get inside The Ace Hotel snaked around the block—or concern for appearance. It was, after all, Fashion's Night Out: who wanted to look as though they were playing a carnival game? There were a few. At one game, one gentleman ignored the objective or prizes at hand, proceeding to spray his friend in the face with a water gun.
Other booths were simply shilling wares: Brazilian sandal-maker Havaianas had a booth set up, as did Keds, both of which being brands that have previously collaborated with Opening Ceremony. One booth stood lonely: manned by chefs from Ken Friedman-owned Ace Hotel restaurants The John Dory and The Breslin, a few women smiled kindly upon a line neglecting them and their pork sandwiches. They did, however, sell the occasional cucumber-based cocktail.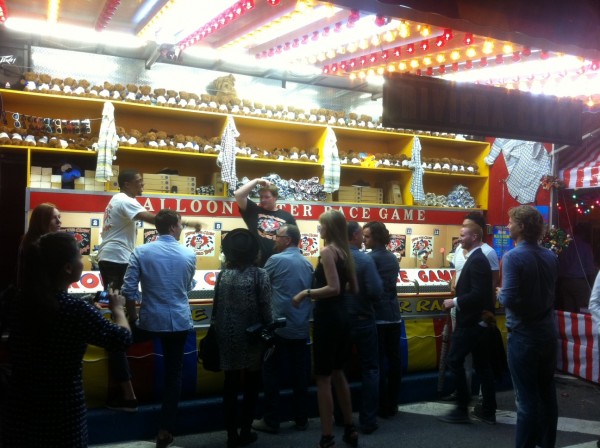 At the lobby door, bouncers cleared the way, and a bevy of publicists stood guard. "You missed Miss Piggy," one informed The Observer. An editorial staffer from a marquee men's fashion magazine standing nearby was crushed, an emphatic "fuck" muttered under his breath. Indeed, the Queen Bee Muppet—currently set to star in November's re-launch of the Jim Henson's world-famous franchise in The Muppets—was at one point on hand to promote Opening Ceremony's collaboration with The Muppets brand:
She reportedly took questions from the press. It was likely akin to actually living in a Muppets movie, though this is not atypical of encounters with the creatures normally inhabiting The Ace Hotel.
Disappointments aside, we moved forward, what little we could: the lobby of the Ace was packed with carnival booths and warm bodies thirsty for booze.
At the Rodarte booth, a magician stood before two wide-eyed women as he fluttered playing cards before them. Behind him, two women were selling limited edition T-Shirts and cotton candy.
At the Band of Outsiders booth, a woman sat drawing sketches of willing (and paying) participants onto a tote bag.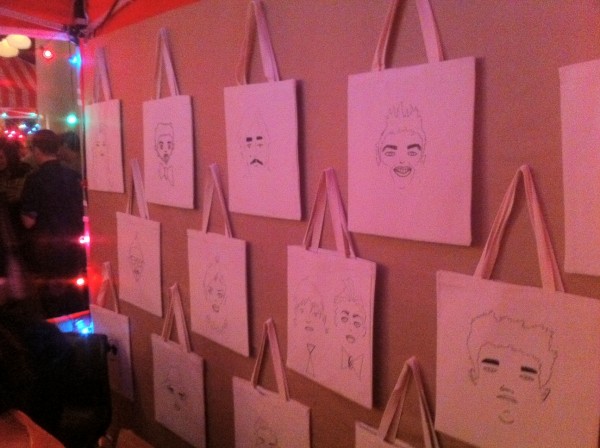 For $20, one could have the single cheapest item in the entire Band of Outsiders collection, with their face on it, and some designer cookies. The tote bags read:
I WENT TO THE BAND OF OUTSIDERS THING AT FASHION'S NIGHT OUT
AND ALL I GOT WAS THIS FRIGGIN' AWESOME TOTE BAG.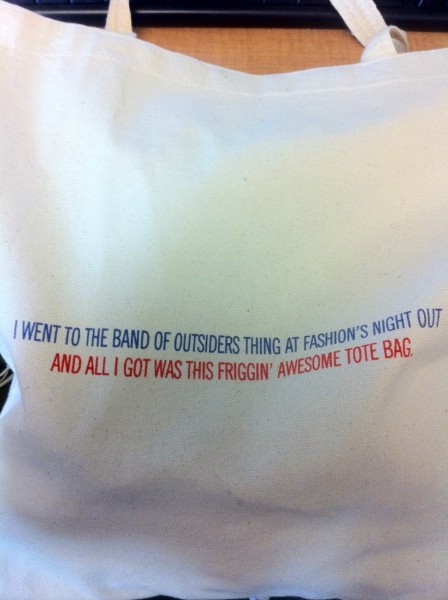 A nearby publicist and an organizer of Fashion Week shows vented together nearby: "They shouldn't call this Fashion's Night Out," one noted. "They should call it Fashion's Big Mess."
What about 'Fashion's Hot Mess'? we suggested.
"Exactly," she returned. "You know, real fashion people actually hate this night. It's a total shitshow."
And yet, people seemed to be enjoying themselves; even the scheduler enjoyed watching the sketchings on tote bags, perhaps out of voyeurism. She was soon pulled away by her companion: "I want a fuckin' Sno-Cone" it was explained. Indeed, behind her, lime-green sno-cones spiked with vodka were being sold; they attracted a throng of onlookers and eventual patrons.
Outside of the Opening Ceremony store, friends photographed each other vogue-ing with newly purchased bottles of perfume. A photobooth powered by blogging service Tumblr attracted many to grin with friends in front of an old carnival carriage.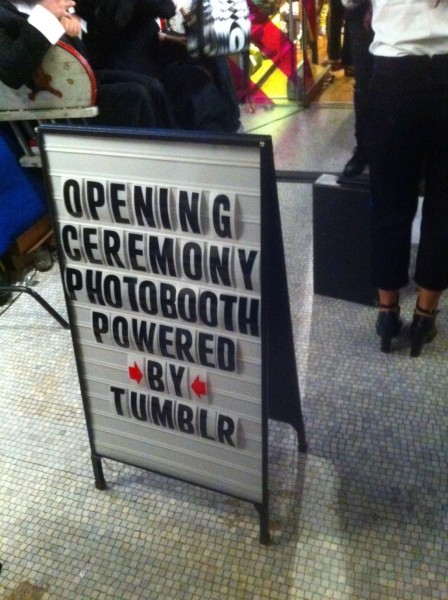 They, too, enjoyed themselves.
Inside the Opening Ceremony store, a group of three twentysomething women, all of whom wore black leggings with skirts, stood in a small huddle.
They were having what appeared to be the most intense conversation to ever occur on the floor of an Opening Ceremony store:
"The way we are now, the reason we're here, it's because of how we were friends in the first place, you know?" They high-fived. We trudged through the store, impressed with the amount of Opening Ceremony wares one could acquire at the lowest price-point: a $5 toothbrush in Day-Glo colors, with the Opening Ceremony logo etched across it. A tape dispenser! A coin purse!
We spent a disconcerting amount of time staring at this pin of actress Chloe Sevigny's name.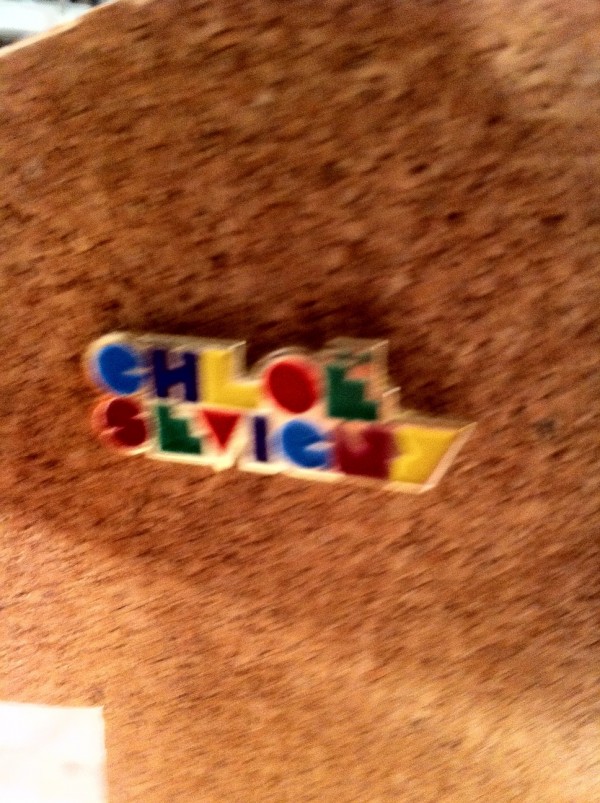 She has a fashion line with the store. The pin was $5.
Leaving the store, fifteen minutes later, the young, intense women holding a conversation near the front continued: "Honestly, like, don't end your friendship. Just…try to…pull back a little bit."
Pushing further into the Ace lobby, we saw Miss Piggy's stage, laid bare, though Muppet-adorned Opening Ceremony shirts were being sold at what was once her perch.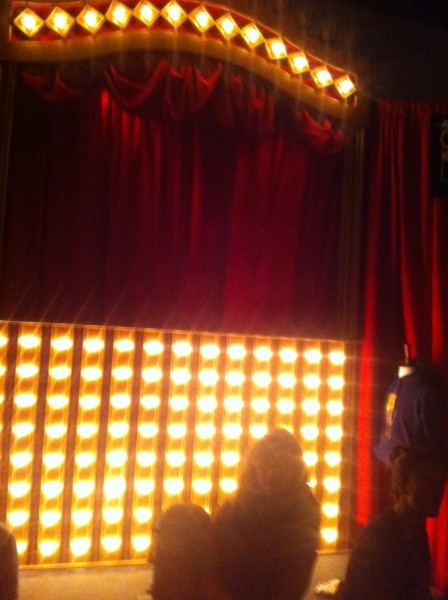 Nearby, another stand released onlookers with "readings" of their auras, taken for $5. In return, they received blurry Polaroids of themselves surrounded by huge swaths of green and pink light.
Outside, more gathered at the carnival booths. The Observer paid $3 to shoot basketballs at a tied hoop; we won ourselves a nylon tote bag, and then considered the import of the evening:
Even if the majority of the attending retailers' wares are classic cases of conspicuous consumerism, they are doing their best to make luxury brands accessible to the public; it is almost, in this context, compassionate commercialism. Only in the world of high-fashion—a distinctly absurdist setting if there ever was one (see: Zoolander)—is this idea even remotely palatable. That said, if a one-night celebration of small business American entrepreneurship (something currently embattled by a hobbling economy) and a few carnival games on Broadway is wrong, being right is therein wildly unattractive.
We will enjoy the tote bag.