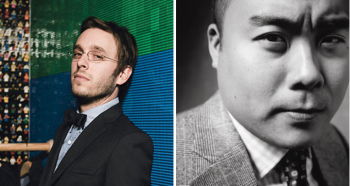 Last night's Opening Ceremony party at the Ace Hotel for Fashion's Night Out is certainly deserving of its own report, which is coming shortly. The most coveted item of the night, however, may be the hippest cookie in the universe.
For those who don't know, Band of Outsiders is the crazy-popular brand started only a few years ago by a former CAA agent, Scott Sternberg. They hand-sew fashion-standard based stuff—suits, oxfords, polos—with minimalist Americana tones in uber-slim cuts. Mr. Sternberg is a professed fan of cookies; he even has a cookie blog.
Also, for those who don't know, 'Momofuku' is shorthand for the restaurants of David Chang, who soared to popularity shortly after opening the East Village's tiny Momofuku Noodle Bar in 2004. They became famous for their crack-like noodles and pork buns, and Chang has since opened up three additional restaurants (Ssam Bar, Ko, Ma Peche) and three iterations of the Momofuku Milk Bar, his dessert shop (the most recent, of course, in Williamsburg), in addition to having released a massively popular cookbook, a quarterly magazine with McSweeny's, and appearing as himself on television shows both fictional (Treme) and non-fictional (No Reservations).
It wouldn't be hyperbole, then, to suggest that a cookie…given to you
In crashpad-of-the-young-and-well-to-do of the moment The Ace Hotel,
at uber-spendy boutique Opening Ceremony's Fashion Night Out party,
that comes inside of the one-night-only Band of Outsiders' Fashion's Night Out tote bag,
made by the Momofuku Milk Bar…
….stands to be The Single Hippest Cookie In The Universe.
And this is it: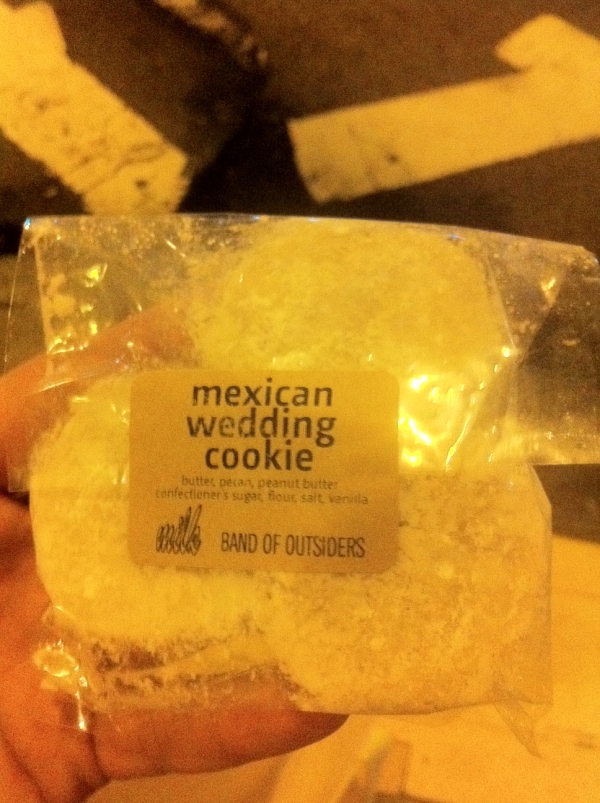 And this writer ate it.
And The Observer can confirm that, as far as cookies go, it was magnificent: a flaky, peanut butter and pecan compost core wrapped in a chewy shelter of—what was that, clouds?—and given a coating of powdered sugar, like a Zeppole who lost depression weight off of his puffy, deep-fried past after following The Allman Brothers on tour until Duane died, at which point, it just decided to remain living among the Kudzu in Georgia, unable to move forward, until finally being imported to New York City by Scott Sternberg and David Chang for a final moment of life's rapture, as much as one cookie could feel it.
The tote bag the cookies came in cost $20; a package of Momofuku Milk Bar truffles typically runs one $4. The cheapest thing one can find in the Band of Outsiders store is a $100 bow tie.
The package was a steal.
The cookie was amazing.
We feel indelibly changed.
fkamer@observer.com | @weareyourfek