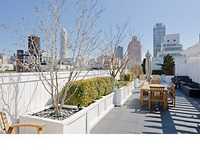 Has Nautica founder David Chu lost some of the wind in his sails? True, he and his wife Gina did just sell their massive condo at 610 Park Avenue. Sadly for them, however, they buyers ended up paying nearly $10 million less than the initial asking price. Originally listed for $32.8 million, the fashionable couple's home at The Mayfair recently  sold for an underwhelming $23 million.
In a description of the building provided by Max Dobens of Prudential Douglas Elliman, the broker notes that "you won't feel like you are in a massive condo at all but a small European hotel" in the Mayfair's cozy residences. The Chu's home was sold by Corcoran agents Janet Wang and Carrie Chiang, but their  listing doesn't exactly gel with the humble abode image that Mr. Dobbens' description conjures.
The Chu's apartment spans 7,700 square feet. In their listing Ms. Chiang and Ms. Wang claim that the home's 1,450-square-foot outdoor space is "undoubtedly one of the most beautiful private terraces in New York City." The 5 bedrooms and 5.5 bathrooms are complemented by a large solarium, a kitchen with a walk-in- butler's pantry, a formal dining room, a living room with a fireplace and a cozy library to top it off. "This very private home feels like a house in the sky atop one of Park Avenue's prestigious, white-glove condominium," Ms. Chiang and Ms. Wang's listing adds. Sounds like a massive condo to us.
According to The Real Deal, the Chu's have been living the high live in their apartment at the Mayfair since 1999. In late August, the home was purchased by an unnamed buyer using an LLC, but unlike some less judicious purchasers these guys were good. Only the buyers' lawyer appears on the deed, so the identity of the newest 610 Park residents remains a mystery… for now, anyways.