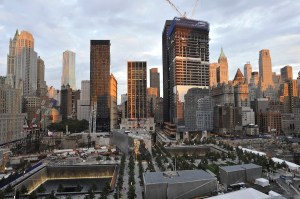 Amidst all the commemoration and solemn ceremony for the 10th anniversary of 9/11, Charles Bagli took time off from his book leave—for his Stuyvesant Town opus—to file his first story since June 15, "Downtown's Rebirth, 10 Years and $24 Billion Later." Mr. Bagli, always the development skeptic, reminds us just how much rebuilding the World Trade Center has cost.
$20 billion in federal funds, of which:
$6 billion for 9/11 clean-up
$8 billion in rebuilding dollars
$6 billion in rebuilding grants and tax incentives
There was a $4.5 billion insurance payment to Larry Silverstein
$3.2 billion spent on 1 World Trade Center
Where Condé Nast got $47.5 million in tax breaks
$1.65 billion in tax-exempt Liberty Bonds kept Goldman Sachs downtown at its new $2.4 billion headquarters
Larry Silverstein only got $2.6 billion in Liberty Bonds for his three $6.9 billion WTC towers
Another $1.6 billion for 15 luxury apartment buildings, with only 5 percent of the units set aside for low-income tenants
$313 billion in tax grants for local businesses, "although there was little chance that the American Stock Exchange, Century 21 or the law firm Stroock & Stroock & Lavan would leave."
And then there's the greatest indignity, the soaring Santiago Calatrava transit hub, which Mr. Bagli sees as little more than a glorified PATH station. (It's also a mall and connector for neighboring subway lines, not to mention a symbol, if an incredibly expensive one.) "The hub's cost has swelled to $3.44 billion from $1.9 billion over the past decade, though it will serve only 80,000 PATH riders daily. Pennsylvania Station in Manhattan serves seven times that number, and yet its planned renovation has largely stalled." Mr. Bagli might be biased, though, since he lives in northern New Jersey.
And really, how much money is this compared to the $3.3 trillion The Times estimates the U.S. spent directly or indirectly responding to 9/11.