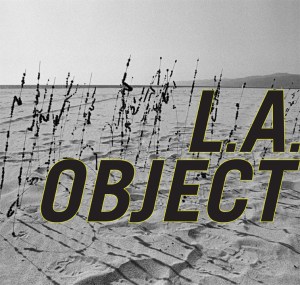 This edition of the art book roundup brings two books that fill in a few gaps in the art-historical record–one a tidy Artists Space exhibition catalogue devoted to the once-obscure interventionist Christopher D'Arcangelo; the other, an epic history of African-American artist in Los Angeles from the the 1960s through the 1970s.
L.A. Object & David Hammons Body Prints
Edited by Connie Rogers Tilton and Lindsay Charlwood
424 pp. Tilton Gallery. $65.
"Until 30 years ago, it was routine practice to keep contemporary art and 'ethnic' art in separate categories," New York Times art critic Holland Cotter wrote in a recent review of Hunter Drohojowska-Philp's history of the contemporary art scene in 1960s L.A., Rebels in Paradise: The Los Angeles Art Scene and the 1960s. Mr. Cotter continued, "Those days are over, or should be, but they linger on in this book, which ignores entire cultures while meticulously cataloging the marital mishaps and bad-boy pranks of a few Establishment 'rebels.'"
Aiming to provide a counterbalance, Mr. Cotter pointed to L.A. Object & David Hammons Body Prints, a magisterial new volume on African-American artists in Los Angeles that has just been published by the Tilton Gallery.
The book is a beauty. It is also, for a writer whose knowledge of the L.A. scene has long revolved around a superficial knowledge of the activities of the era's storied Ferus Gallery (which held shows with emerging stars like Ed Keinholz, Andy Warhol and Ed Ruscha), a deeply unsettling read.
In the catalogue's lead-off essay, scholar Kellie Jones presents a succinct overview of the city's African-American art scene, beginning in the 1960s, which centered on spaces like the Watts Towers Arts Center, Gallery 32 and the Brockman Gallery, and activist groups like the Black Art Council, which successfully lobbied to show black artists at the Los Angeles County Museum of Art.
There is, throughout Ms. Jones's essay and the book as a whole, voluminous documentation of work by major artists who still rarely figure in most histories of American postwar art, like Betye Saar, who made intricate figurative drawings on covered glass windows; Senga Nengundi, who was conjuring unusual forms from sand and pantyhose before Ernesto Neto was even a teenager; and John Outterbridge, whose multifarious assemblages took on a gamut of styles. Also here are John Riddle, George Herms, Greg Pitts, Daniel LaRue Johnson, Joe Ray and Timothy Washington, to name a few more.
Occasionally, contemporary events intercede in the story. Following the Aug. 1965 Watts Riots, which resulted in more than 30 deaths, thousands of arrests and the destruction of hundreds of buildings, artists Noah Purifoy and Judson Powell invited artists to create assemblages from the wreckage for an exhibition called "66 Signs of Neon," which traveled to museums across the U.S. and to Berlin. Like their white contemporaries, many of the artists in "66 Signs of Neon," scholar Yael Lipschutz notes in another essay, were channeling the examples of artists like Marcel Duchamp and Kurt Schwitters. In a peculiar coda, in 1972, Purifoy decided to throw out many of the works from "66 Signs," after they had been sitting on his lawn for some time.
The career and art of Mr. Hammons, who emerged as the star–and the most commercially successful–member of the scene, is charted in the greatest detail. Tobias Wofford discusses the repeating appearances of spades in the artist's work and hones in on his body prints, which involved oiling his body with margarine and pressing it against paper. (L.A. Object, which is filled with photos, includes an image of a white TV reporter removing his Channel 7 blazer and baring his upper body to make a print as the cameras and Mr. Hammons look on.)
And we also get a peek into Mr. Hammons's early years from a variety of writers, who recall his ephemeral performances and some of the reclusive antics that would become his trademark when he moved to New York in the late 1970s.
Anarchism Without Adjectives: On the Work of Christopher D'Arcangelo (1975-1979)
40 pp. Artists Space. $5.
"D'Arcangelo is careful to emphasize that his actions are not glamorous, and in fact are probably more boring to watch than to read about," then-critic Jeffrey Deitch wrote in a 1976 essay on the work of Christopher D'Arcangelo, reprinted in this catalogue, which accompanies Artists Space's current show about the artist. Indeed, on paper at least, they sound positively alluring.