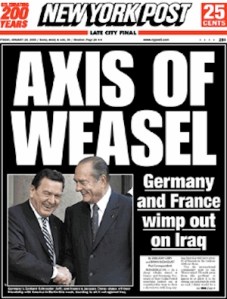 Another sad day for the city's wood. Veteran New York Post copy editor and front-page headline writer Joseph Brendan Cunningham died Thursday of complications following a stroke. He was 43.
Cunningham made a name for himself with the Jan. 24, 2003: "Axis of Weasel," which referred to US allies Germany and France, who were reluctant to support the war in Iraq.
"As Chris Shaw, then the paper's managing editor, recalled to NPR several years later, Editor-in-Chief Col Allan was looking for headline suggestions when 'Joe, a copy kid who shouldn't be saying anything to anyone, just chimes up in the background of the newsroom: Axis of Weasel. 'The boss points at him: "He nailed it" — and he got himself a job,'" his Post obit says.
Some memorable ones: "Let's Mecca Deal," about the Ground Zero mosque; "Freakin' Flyer," about the JetBlue attendant who flipped out; and "Screw U.," about a professor pimping out girls on the Web, according to the Post.
He is survived by his wife Johanna Huden, a former Post writer, and their two children.