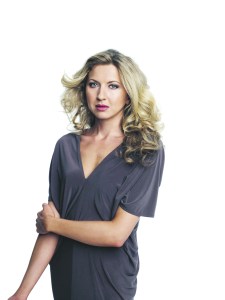 The first time Nina Arianda walked on the stage at the Cort Theatre, she broke into tears.
"I was having a conversation with somebody, and I got onto the stage, and I looked out, and it was—I just started crying," she said a few weeks ago over an afternoon cappuccino in Soho. "Because you're there. It's happening to you. And I can ignore that as much as I want to, to keep myself calm and focused. But when you have to actually go and look at the space, you have to face the magnitude of the theater, and the history, and the ghosts. It's beautiful. And it's really—it was overwhelming."
Ms. Arianda can be forgiven for feeling overwhelmed.
She took that walk on the Cort stage near the start of this year, when she was preparing for Born Yesterday, in which she played opposite Jim Belushi and Robert Sean Leonard. She was 26, a year and a half out of N.Y.U., where she earned an M.F.A. in acting, and she was about to take on her first Broadway role, the role that made Judy Holliday famous. She'd landed the part after a single meeting—director Doug Hughes knew he wanted her—and she ended up with a Tony nomination for Best Actress in a Play.
A year earlier, in January 2010, when she was 25 and only six months out of N.Y.U., she bowled over audiences and critics in the debut of the David Ives two-hander Venus in Fur, off Broadway at the Classic Stage Company. She'd nailed that role in a single audition, too. This fall, Venus will open on Broadway, and Ms. Arianda—directed once again by Walter Bobbie, but with a new co-star—will likely earn a second Tony nomination.
The play is an intriguing, amusing and very intense 90 minutes of shifting power dynamics and charged sexual dynamics, in which we watch Vanda, Ms. Arianda's young and desperate actress, audition opposite the author and director of the play-within-the-play, a dramatization of the 1870 novella "Venus in Furs," by Leopold von Sacher-Masoch, for whom masochism is named. There are, suffice it to say, some weird scenarios in Sacher-Masoch's story, and therefore in Mr. Ives's play, and Ms. Arianda's part required her to be by turns timid and controlling, manipulative and manipulated, funny and frightening.
"The play is every single thing you can imagine," she told The Observer in Soho. "It's romantic. It's scary. It's hilarious. And there aren't a lot of plays like that, or a lot of opportunities for a female lead to have that kind of thread. I love that. And I love that I can't figure Vanda out completely."
Vanda was her first real role, and it won Ms. Arianda rapturous reviews. "Remember the name—Nina Arianda," wrote Joe Dziemianowicz in the Daily News. "In Venus in Fur, she proves herself to be a comic goddess." In The Wall Street Journal, Terry Teachout even more enthusiastic: "She has star quality oozing from every pore."
As Billie Dawn in Born Yesterday, a gangster's moll who discovers within herself a mind of gold, Ms. Arianda stole the show from her more famous co-stars and earned even better notices than she had for Venus. "Forget yesterday: A star is being born right now at the Cort," Adam Feldman proclaimed in Time Out New York. In Entertainment Weekly, Melissa Rose Bernardo wrote that Ms. Arianda was "giving a performance that could be called breakout, although breakout seems somehow insufficient." "I hereby nominate the luminous laugh-goddess Nina Arianda for president," gushed New York's Scott Brown.
Somewhere along the way, she also filmed parts in Win Win, with Paul Giamatti, which opened around the time Born Yesterday did, Woody Allen's Midnight in Paris, which arrived in late spring, the recent Higher Ground and Brett Ratner's Tower Heist, with Eddie Murphy, Ben Stiller and Casey Affleck, which opens at the beginning of November.
Four days after Tower Heist arrives in theaters, Ms. Arianda will be opening in Venus at the Manhattan Theatre Club's Broadway house, the Samuel J. Friedman Theatre.