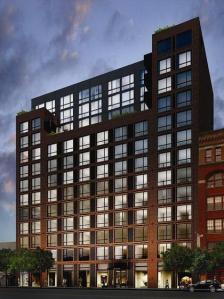 Short of Bond Street, the High Line has created the highest concentration of high quality architecture in the entire city. The Standard, Jean Nouvel's Vision Machine, Frank Gehry's IAC Building, the canted HL23, the work of Morris Adjmi. But The Journal finds that +Art, a faux factory condo project on the once bawdy 28th Street, is only full of minuses.
The High Line gives the neighborhood an exciting, forward-looking luster. +Art, designed in a style that evokes the area's warehouse past, fails to convert that strong sense of history and tradition into anything of much promise, and ends up feeling clumsy, oversized and plain.

Take, for example, its facade. Architect Leonard Fusco, of GF55 Partners, which designs apartment buildings that generally look more like new-age dormitories than places where anyone really builds a life, has rimmed the building's front windows in heavy frames of custom bull-nose brick with panels of pre-distressed aluminum running vertically between. [snip]

Inside, the spaces are even less inspiring. Warehouse districts are attractive to gentrifiers because of their ample, airy loft spaces, with open floor plans and high ceilings. The units in +Art are far too small for their hefty price tag (tiny studios start at around $550,000) and it seems sort of silly to build a new building with cramped bedrooms (Mr. Ekstein calls them "efficient") in a neighborhood where price isn't much of an issue.

Not surprisingly, few families have moved into +Art—the developers say that the clientele is largely gay singles, 20-something couples and empty nesters. "This is more of a cocktail-party building than a dinner-party building," Mr. Fusco says, referring to the size of the units.
Perhaps you have to be tippling to enjoy living here.