As voting wraps up for the NY-09 special election to replace Anthony Weiner's congressional seat, stories of less-than-admirable tricks by supporters of both candidates—Republican Bob Turner and Democrat David Weprin—are being reported. 
Hotline On Call reports that Bob Turner's campaign—according to the Weprin team—sent out a text late last night encouraging voters to call up the Weperin campaign headquarters and jam their phone lines, in order to get between last-minute calls and the voters the Democrat's team wants to reach. Another person on Twitter saw the request go out on Facebook:

He apparently didn't screengrab it, though.
Weprin spokesperson Elizabeth Kerr responded:
"Republicans participating in phone jamming in the past have landed in jail, and there must be a full investigation into the Republican phone jamming campaign."
Turner spokesperson Bill O'Reilly adamantly denied it:
"Nonsense…We are busy talking to voters. We have neither the interest nor the inclination to play grade school games. Mr. Weprin must have 25 phone banks working. This sounds more like an election day smoke screen for Weprin campaign mistakes."
It's a serious charge: a violation of Federal Communications Law that could result in jail time.
Meanwhile, the Weprin campaign has been accused of "flooding Twitter" with false anecdotes about switching sides at the last minute, apparently: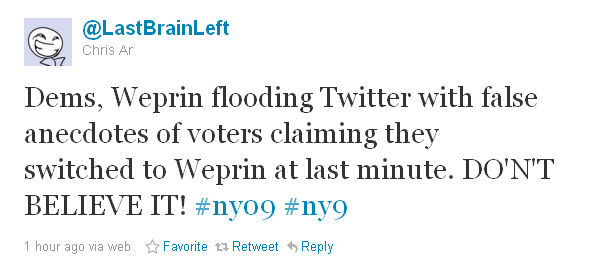 Some voters, however, actually do remain undecided…

…Though some people have their own theories as to why: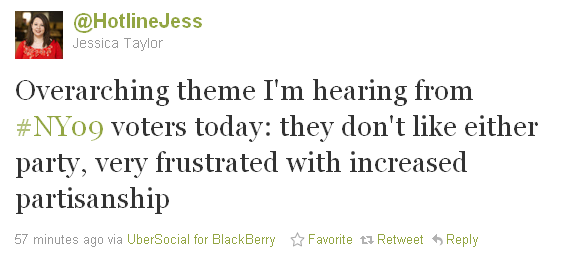 UPDATE: There's also now the claim—from Turner spokesman Bill O'Reilly, naturally—that Weprin supporters are calling up Jewish households on behalf of Jews for Jesus (for Turner) (the idea being, of course, that Jews would supposedly never vote for anyone endorsed by Jews for Jesus).
Elsewhere:
See anything we should know about? We'd love to hear it.
fkamer@observer.com | @weareyourfek