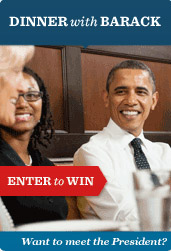 Could you hear the collective sigh of relief on Twitter today? "Follow Friday" hashtags may not be as stylish as they once were, but they still signify that the news cycle is taking a breather. And now it's time for some fun, courtesy of the latest trending topic, "ObamaCampaignEmailSubjectLines," since no one has been paying attention to how awesome those are. Here are some of the best submissions from writers who are obviously happy to be tweeting something irreverent this week.
Best "Obama Campaign Email Subject Lines" fake tweets

@jaketapper: Seriously, dude, what is UP with you?
1. @lizzieohreally What about if we hire Francona?
2. @snowed_in: Open Re Your US Lottry Win
3. @DukeStJournal I have your picture in the front of my Trapper Keeper
4. @iowahawkblog Hello Dearest, the Hon. General Solyndra wishes to transfer $535 million to U.S. bank account
5. @_IronBard My brother in Kenya needs your help with his bank account
6. @keithcrc Time for Michael Vick to man up.
7.@whpresscorps RT @SabrinaSiddiqui RT @jaketapper Your mom is hot
8. @scott_tobias Thinking there's not much of a difference between #ObamaCampaignEmailSubjectLines and #NancyMeyersMovieTitles.
9. @MattDeLuca Open Me or Warren Buffet Gets It
10. @rcmahoney There's always money in the banana stand