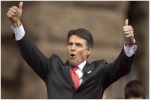 President Barack Obama will be making another foray into Manhattan tonight to raise money, while across town one of his chief rivals will also trying to add to his campaign coffers.
Gov. Rick Perry is making a rare campaign pit stop into the Washington Heights/Inwood section of Manhattan this evening, meeting with Hispanic business leaders for a fundraiser hosted by Fernando Mateo, head of the New York State Federation of Taxi Drivers.
"He reached out to me, and I was honored by it, Mr. Mateo told The Politicker. "I have certainly made up my mind. He is the person I will be supporting for president. I believe he will turn this country around."
Mr. Mateo voted that it was the first time that a president or presidential candidate had met with the Hispanic community in New York.
Mr. Mateo slammed Mr. Obama's immigration and economic policies.
"We have to make sure that the policies that Obama wants to pass don't pass," he said, adding "the leadership [Mr. Perry] has shown in so many areas clearly makes him the front-runner and the next president."
The get-together will be at Papacito's, a Mexican restaurant in the neighborhood. Mr. Matos said that he expected to raise $50,000-$100,000 for the event, and added that he hoped it would be a warm-up for a bigger fundraiser later in the year.
"This is like a pitcher warming up. And I'm in the bullpen."
News of the visit was first reported by CBS News New York.