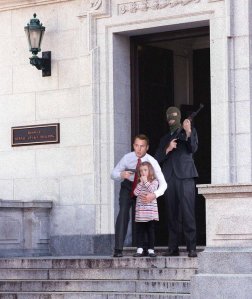 In a "breaking news" story in The Onion this morning, the satirical newspaper reported Congress took a group of touring school kids hostage in the Capitol rotunda, demanding $12 trillion by 6 p.m. or they'll shoot a kid every hour. For once, House Speaker John Boehner (R-OH) and Sen. Harry Reid (D-NV) are cooperating to reduce the deficit. 
The Onion is also live-tweeting the "hostage situation", the lastest update being:
"Police helicopter just ordered to pull back after Rep. Trent Franks tried to take it down with a shotgun #CongressHostage"
In the next 24 hours, we predict someone on cable news will demand that The Onion apologize to the nation of Norway.