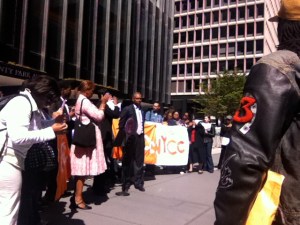 A group of vocal protestors was bunched in tightly together within the confines of a narrow sliver of sidewalk that JP Morgan security had provided for them yesterday morning. By design, the space kept the group safely off the spacious outdoor plaza in front of the company's headquarters at 270 Park Avenue, placing their backs against the wide, waist high concrete bollards that delineate private property from the city sidewalk.
The protestors' uncomfortable position simultaneously allowed a constant flow of pedestrian traffic to move past them on the sidewalk and to obstruct the view of onlookers, which consisted almost entirely of curiously observant JP Morgan employees leaving the building for lunch. The rest were the various City Council employees that were on hand to staff the three members who took turns at the makeshift lecturn shoved snuggly into the center of the chanting crowd.
Unfortunately for the protestors, their chaotic, ad hoc physical placement and the clear lack of an interested public seemed to echo the rather jumbled message that they brought to the headquarters of the corporation that they insulted, accused and then, bizarrely, invited out for a walk around Brooklyn, where they believe Chase is wreaking havoc on low-income homeonwers."The government bailed out this company and then their CEOs received thousands of dollars in bonuses," said Minister Patricia Malcolm of Brooklyn's "Churches United to Save and Heal," before going on to accuse the bank of refusing to re-negotiate the mortgages of many poorer city residents that are facing foreclosure in the face of rising unemployment and ongoing financial crisis.
The minister then engaged in a repetitive 'call and response' with the supporters crowded in closely behind her by calling out "Can't take it no more!" to which the crowd responded en masse, "Fired up!"
Minister Malcolm's crowd did indeed seem "fired up" by its anger toward what it perceived as Chase's predatory lending practices even after the bank received "bailout money" from the Federal Government. Those acrimonious feelings were heightened by the elected officials that took the podium after Minister Malcolm.
"Tax money has built up this institution," said Councilwoman Letitia James while gesturing up at 270 Park Avenue, the black steel and glass high rise that rose up behind her, giving the event perhaps its only successful moment of theatrics. "Chase has the second lowest conversion rate in New York City, and they control thousands of mortgages."
And it was Ms. James who made the biggest statement of the event by by giving a broad strokes description of legislation that she intends to propose before the council. It would prevent JP Morgan, currently the largest issuers of New York City bonds by a wide margin, from dealing in any more bond issues with the city.
Judging from Ms. James' statements yesterday, the measure would be intended as a clear punitive message to Chase, and one that, judging from at least two other members of The Council present at yesterday's protest, has at least a modicum of political support.
City Council Members Ruben Wills and Jumaane Williams followed Ms. James to the podium and both were quite pointed and discourteous in their remarks. Mr. Wills made a veiled accusation of Chase's targeting of "black homeowners" through a concerted ad campaign. Mr. Williams was less subtle, going as far as to say that Chase lenders are "ravenous predators who dangle gold in front of poor people."
The strong language seemed odd for more than a few reasons, not the least of which were the fact it was being broadcast out into mostly passing car and pedestrian traffic, or for the incongruous invitation that immediately followed it.
In what was perhaps meant to be the climactic event of the press conference, a middle-aged man who was not clearly identified took the podium to describe the urban decay caused by high foreclosure rates in his Brooklyn neighborhood. After further accusing Chase of being a major, active force behind this social blight, the man the invited Jamie Dimon, JP Morgan Chase's CEO, to come tour those neighborhoods hardest hit by homeowners unable to pay their mortgages.
The protest signs put it plainly: "Jamie Dimon, Come See What Chase Has Done to NYC."
When she returned to the mic, Councilwoman James made the same plea. "Come down and talk Jamie Dimon," she said, "We will show you what you have done."
As the crowd took full throat to chant after Mr. Dimon's whereabouts, Ms. James answered a question posed by The Observer about the efficacy of her plan to cut Chase out of further city business; in this current climate, with interest rates at zero, banks failing every day and widespread panic around lending, what institution is capable of replacing Chase to issue New York City bonds?
"I don't really know," replied Ms. James, "I'm not really in a position put forth any names yet."
Perhaps Mr. Dimon might offer some during his walking tour.