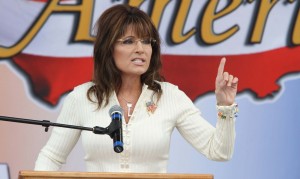 Former Vice Presidential candidate, Alaska governor and reality TV star Sarah Palin isn't ready to throw her name in the 2012 presidential race — but she doesn't want to be taken out of it either. Palin continued to tease the possibility  of a White House run at a Tea Party rally in Indianola, Iowa Saturday.
Amid chants of "Run, Sarah, Run!," Palin gave a speech in which she criticized President Obama and the current slate of Republican candidates for "corporate crony capitalism."
"This is why we must remember the challenge is not simply to replace Obama in 2012. The real change is who and what we will replace him with. … Folks, you know it's not enough to change the uniform," Palin said.
Afterwards, Palin spoke to reporters and insisted the event "was a thank-you-Tea-Party-Americans speech" rather than an official campaign event.
"I'm still not ready to make any kind of an announcement. … I'm still trying to figure it out, if it's the right thing to do," Palin said as she autographed a gun for an admirer.
Palin's presence on the '08 ticket and her regular participation at political events since then has encouraged rampant speculation she'll throw her hat into the ring next year. Her appearance in Iowa only adds fuel to the fire. The Hawkeye State is home to the first presidential primary, making it a favorite haunt of White House hopefuls. Palin's next speech is at a Labor Day Tea Party rally in New Hampshire, which is set to host the second primary contest.
It may be time for Palin to make a definitive announcement and stop teasing the possibility of a run as there's evidence her schtick is wearing thin on voters. A recent Fox News poll found only 25 percent of Republican voters want Palin to join the race while 71 percent would prefer she stay out of it.