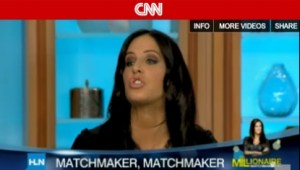 For those of you not keeping score at home, Millionaire Matchmaker star Patti "Don't Call Me a Yenta" Stanger has managed to offend nearly half of Bravo's fan base in a cluelessly homophobic media blitzkrieg over the past two weeks. The most recent of these classic Patti moments occurred last night on The Joy Behar show, where Ms. Stanger tried to clarify what some perceived as anti-gay comments from last week. This is how she "clarified" them: "I'm an advocate for gay marriage. I have more gay friends than Carter has pills," the Bravo train wreck told Ms. Behar.
Yikes. Stop it? Not a chance.
"But the gay man," she went on, "they whip it out at eye lock! They get involved, and then find out later whether or not they want a serious relationship."

Remember: this is Patti Stanger's version of damage control, after she's already apologized to GLAAD for her comments on Bravo's Watch What Happens Live. When a caller named Dustin asked Patti for advice on a long-distance open, she replied, "In the Gay world, it will always be open." She then had Dustin confirm that he is indeed a homosexual before hitting a grand slam analysis with her line, "There is no curbing the gay man." Well, with an apology like that, who can refuse to love her?
Ms. Stanger has yet to comment on her advice that all "Jewish men lie," but maybe she believes herself exempt from hate-speech against members of her own religion.