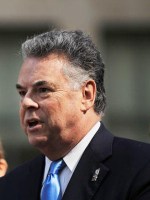 Long Island Rep. Peter King appeared on the local Fox affiliate yesterday and slammed President Barack Obama's Israeli policy as a vote on Palestinian statehood looms at the United Nations General Assembly this week.
"He was the one who suggested some moral equivalency between the Israelis and the Palestinians,  the Israelis and the Iranians," Mr. King said.
This charge is a frequent one lobbied by the right in Mr. Obama's direction and is a reference for his push to get both sides to come together for an agreement.
He was the one who was basically rude to Prime Minister Netanyahu, and snubbed a close ally," Mr. King continued. "I think that is the main reason why we see so much chaos in the peace process."
Take a look:
President Obama Addresses United Nations : MyFoxNY.com