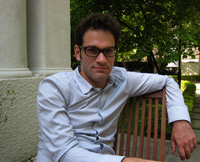 Philip Tinari, one of the most important English-language critics working in China, has been appointed director of the Ullens Center for Contemporary Art (UCCA) in Beijing, according to Artforum.
"Mr. Tinari represents a new, fresh, and inspired beginning for us at UCCA," said Guy Ullens, UCCA's founder, in a statement. "We have made a number of adjustments designed to bring us closer to the Chinese market and Philip's appointment is part of this move. I have always wanted UCCA to be the center of creativity in China and for China, and I believe Philip has the background, interest, and sensitivity to bring us to a new level here."
Mr. Tinari will begin in December 2011. He replaces Jérôme Sans, who has held the position since 2008. Mr. Tinari, a contributing editor at Artforum and editor-in-chief of the bilingual magazine LEAP, will run a "serious publishing operation" in addition to being in charge of organizing shows.