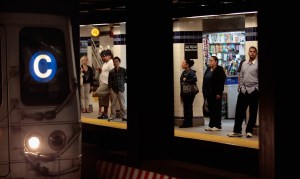 Finally: a way to tweet about how hot and crowded the L train platform is…while on the L train platform! An MTA official confirmed rumors to the New York Observer that starting Tuesday, AT&T and T-Mobile customers will be getting service underground. (Everyone on a different plan? Try borrowing your neighbors' phone.)
Because those 10 minutes you spent not on your cell phone every day were really getting irksome, weren't they?
The official told us that effective Tuesday, the following subway platforms (or "mezzanines" corrects our source, who is iffy when we ask about calling people in connecting corridors) will have cell service:
The CE line at 23rd Street and 8th Avenue
The ACE line at 14th Street and 8th Avenue
The L line at 14th street and 8th Avenue
The 123 line at 14th street and 7th Avenue
The FM line at 14 street at 6th Avenue
The L line at 14th street and 6th Avenue
The trains themselves will still not get reception, so if you are stuck underground for three hours, there will still be no way to call your boss and let them know that's why you're late for work.
In addition, the MTA official told us that although only AT&T and T-Mobile are currently on board with this plan, they are looking for other service providers to join the program. These six mezzanines are part of a pilot program on the MTA's part, which is hoping to eventually make all stations cell phone capable. 2016, which had been floated as the tentative date for this availability, could not be confirmed by the MTA official, even though that's a pretty long time from now.
In other news, here are the planned service changes for the weekend, ostensibly screwing up your plans so eventually you'll be able to text your friends about why you're two hours late for brunch.