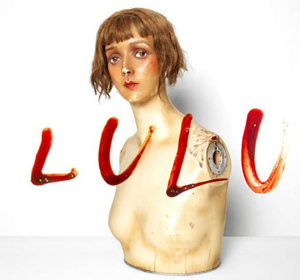 If the forthcoming collaboration between Metallica and Lou Reed isn't strange enough, the London Underground has banned promo posters for the album from subway stations and trains because it looks "too much like graffiti," according to NME. The poster features the album's cover, to the left here, which features a limbless mannequin with a scary face like most mannequins have. Scrawled across it is the album's name, Lulu, written in sloppy red letters. We guess it does look a little like some vandal wrote it, but, uh, guys, it isn't graffiti.
Incidentally, NME has also reported that Lou Reed made no less than two members of Metallica cry during the recording sessions for the song "Junior Dad."According to Metallica guitarist Kirk Hammett:
"[Metallica frontman] James [Hetfield] came into the kitchen in the same condition, he was sobbing, too. It was insane…Lou managed to take out both guitar players in Metallica in one fell swoop, with his amazing poetic lyrics."
Yes, they had become the puppets to Lou Reed's master. Or something. Lulu is out on Halloween.