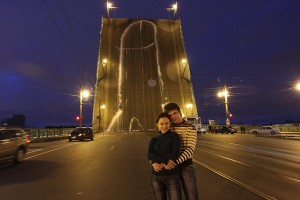 As the fourth Moscow Biennale of Contemporary Art gets set to open on Friday, members of the left-wing art collective Voina are calling on artists to boycott the exhibition, saying that their name has been attached to a work that they did not create.
According to The St. Petersburg Times, at issue is a video that has been included in the exhibition that shows one-time Voina members Pyotr Verzilov and Nadezhda Tolokonnikova and a handful of volunteers attempting to kiss female police officers in Moscow earlier this year, as part of an art action.
Moscow Biennale curators have reportedly attributed the work to Voina, but current members say that Mr. Verzilov and Ms. Tolokonnikova were removed from the group in 2009, after allegations surfaced that Mr. Verzilov had informed on a political activist in Ukraine.
Mr. Verzilov and Ms. Tolokonnikova claim that they still have the right to use the Voina name, making the whole situation rather messy.
Another leftist Russian art collective, Chto Delat? ("What is to be done?"), whom The New York Observer interviewed this summer on the occasion of the "Ostalgia" show at the New Museum, weighed in on its Twitter account today, linking to The Times article and writing: "Curators at Moscow Biennale try to fake Voina's participation."