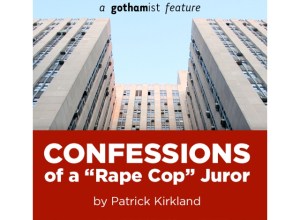 Patrick Kirkland, an ad copywriter from the Upper West Side and juror in the rape cop trial, has written a tell-all for Gothamist.
The problem with juror tell-alls is that jurors are hand-picked to be exactly the kind of person who wouldn't provide an interesting narrative of the case, but Mr. Kirkland offers an astute account of the typically secret dynamics of a jury.
The feature is available as a Kindle single, and it is definitely worth purchasing if you:
Were disappointed by the not guilty verdict.
Are ready to be even more disillusioned by the legal system (jurors sleep and allegedly draw out the deliberations to pay for their car repairs).
Are acquainted with the singularly humiliating experience of being informed what you did while drunk the night before (and have the stomach to see it played out with legal consequences).
Want to know how a $750-an-hour lawyer wins a he says/she says case.
On that note, a brief excerpt:
She was sitting on the couch, [accused cop Kenneth] Moreno testified, and I asked how she was doing. She said she wants to throw up one last time, and she went back into the bathroom.

"I asked her if she drank any water. I filled the glass back up for her…. We were talking, going back and forth, talking about this and that. She drinks a small sip and then she puts the cup down…. I went to pick it up, and I saw—I saw a roach. I think I said, 'Roach!' and I stepped on it…. She got up, and the glass fell out of my hand and she spilled the water on herself."

"And where did the water spill?" [his lawyer Joe] Tacopina asked him.

"It spilled right down her back," Moreno said. He straightened his back in the witness stand and pointed behind him as a photo of the dirty bathroom floor lit up the LCD. There it was: a small, flattened cockroach.

"That's the guy you got?" Tacopina asked.

"Yeah, I got him," Moreno proudly said. Truth or fiction, the more he talked, the more incredible his story sounded. And yet as it continued, the more I believed it. To pin his entire testimony on a dead roach—who would make this stuff up? And if he was making it up, couldn't he have made it a better story?

Moreno smiled for one of the first times on the stand.