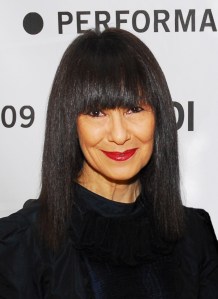 One evening at the beginning of the summer, three women wearing white Adidas tracksuits and Japanese farmers' hats were marching slowly out of a back room at the Upper East Side gallery Salon 94. The small audience watching them emerge was scattered around a windowed room on the gallery's ground floor; the dancer Javier Ninja weaved slowly among them in four-inch heels. A white sheet was draped from the hat resting on Mr. Ninja's head, obscuring his face. He was showing a lot of leg.
Most of the audience members wore absorbed expressions, but one of them, a pixieish woman with jet-black hair, appeared to be assessing the spectacle. Standing in the corner with her arms crossed on her chest, wearing black leather pants, high heels, a white blouse and a sly grin was RoseLee Goldberg, founder and director of Performa, the biennial festival of performance art. She told the people witnessing the work in progress—it was a preview of the artist Iona Rozeal Brown's commissioned performance for the fourth edition of Performa, which runs Nov. 1–21—that they should consider themselves producers. Ms. Goldberg compared the evening to watching Picasso make a drawing.
The performers began moving together while a droning bass melody played in the room. Their movements were rough and slightly out of synch. Ms. Brown stood a small distance away, her body tense and her face full of nervous concentration. The four dancers walked in a small circle. Their bodies were clenched as they bowed at each wall. Mr. Ninja leaned on one of the female dancers. She led him over to Ms. Brown, who pulled him off stage. The music cut out, then switched to a faster, pulsating rhythm. Mr. Ninja re-emerged wearing a headdress that looked like dreadlocks. His face was painted white. A hospital mask covered his nose and mouth. He was ill with a throat infection. It must have contributed to the slight frailty of his movements. A patch of hair on his chin was just barely visible. He made geometrical shapes with his body in sudden choppy motion; the three dancers knelt in a circle around him.
The piece, Battle of Yestermorrow, is Ms. Brown's first foray into live performance. Her preferred practice is painting. When it was over, the performers bowed to one another and the audience ate sushi served on silver platters with their hands.
"I think performance gets dropped into this hokey-dopey kind of area," Ms. Goldberg told The Observer later at Performa's office on 23rd Street. "You know, I get these calls like, 'Somebody just cut a bit off the neck of a chicken—is that performance?' No, it's not. But I have nothing more to say. Because performance is not just an oddity. It's been a part of the cultural way of thinking."
Ms. Goldberg, quite literally, wrote the book on performance art. Her Performance Art: From Futurism to the Present not only indoctrinated the medium firmly into the academy (it is in its third edition and is still taught widely at universities around the world), but also situated performance in an art historical dialogue with the more canonical mediums of painting and sculpture. Her interest still lies predominantly in art history: she gives each artist involved in Performa two separate reading packets filled with several hundred pages of primary source materials and academic essays on art history. This year's themes were Fluxus and Russian Constructivism. She is a fast talker, as if for every detail she tells you, there were three more that she wishes she could mention at the same time. Sitting in her office, the cacophony of traffic from 23rd Street often swells up and fills the room. She calls those her "John Cage moments."
If the earlier history of performance in the late 19th century was, as Ms. Goldberg writes, "more manifesto than practice," she helped to bridge that gap, in both her writing and as a curator at the Kitchen in its prime in the late '70s.
With Performa, Ms. Goldberg wanted to "bring performance into the 21st century." She says she was sick of monologues. In 2001, she commissioned the first live performance by Shirin Neshat, Logic of Birds, a multimedia spectacle performed at Lincoln Center that included three-channel video projections, live vocals and dance; it lead to the creation of the first Performa biennial in 2005. The piece highlighted Ms. Goldberg's belief in the "simultaneity" of art and performance, which is still a major feature of Performa's character. Since then, Performa has grown along with the public's fascination with performance art. In 2006, the Museum of Modern Art established its Department of Media and Performance and in 2010, not long after the third edition of Performa, had one of its most successful shows ever with Marina Abramovic's "The Artist Is Present." In 2011, performance art has what might be its largest audience ever. Performa 11 comes at a time when everyone from pop stars to porn stars—not to mention painters and sculptors—call themselves performance artists, but the organization, which has certainly contributed to the practice's mainstream acceptance, is also bigger than the hype.
"There's a freedom that is so extraordinary to make whatever you want," Ms. Goldberg said. "It doesn't have to fit into a gallery space. Somebody says, 'Oh, I want a street corner,' we'll find them the right street corner. It will never be mainstream because you never know what you're going to get. I don't know what I'm going to get."
Performa has only become more ambitious. Opening night will feature Happy Days in the Art World, which is essentially journalist Sarah Thornton's 2008 book Seven Days in the Art World as told through the prism of Beckett's 1962 play Happy Days by the artist duo Elmgreen & Dragset. For all those layers of reference and irony, the play is, at its heart, a faithful depiction of today's art world: it involves two artists sitting around and fretting about which Russian oligarch will be stopping by to purchase their work.
"I was interviewing the artists earlier this year," Ms. Thornton told The Observer. "They kind of mentioned they were working on a play that was a cross between my book and Happy Days by Beckett. I thought they were joking until I saw the press release from Performa. I think you have to have a highly developed sense of humor to survive in the art world."
This year's biennial will also feature a work by the artist Liz Magic Laser, who was particularly inspired by the Russian Constructivist reader that Ms. Goldberg compiled, especially by the idea of the Living Newspaper, which grew out of techniques of Soviet agitprop street theatre. Ms. Magic Laser took a selection of interviews between journalists and politicians and pieced together a play in four acts, each scene composed of excerpts from three or four interviews. She will present these dialogues as a series of romantic dramas.
"I thought a lot about John Boehner and how he … cries often," she said. "I've had an ongoing dialogue with RoseLee about it for a year now. That was exciting, that the pre-eminent historian of performance art wanted to have this conversation."
The play opens with a reappropriation of the first interview between Glenn Beck and Sarah Palin in which Mr. Beck said, "I want to read you what I wrote about you in my journal last night."
Many artists on the Performa roster are not working solo—the medium tends to encourage collaboration. Jon Kessler, a professor at Columbia University's visual art school, collaborated with his former student Mika Rottenberg on a project that combines elaborate exercise bikes, the natural sweat from the body of one performer, alchemy, Chakra juices and core samples from the desert clay of Botswana. Mr. Kessler explained the piece in minute, objective detail before stopping himself.
"When I say it like that, it sounds like I should be locked up or something," Mr. Kessler said and asked that we don't include all the details. The project was bold even as a concept, and became only more daring as Mr. Kessler and Ms. Rottenberg discussed its execution with Ms. Goldberg.
"She understands that these things really need to be fully engaging," Mr. Kessler said. "RoseLee is kind of the P.T. Barnum of performance art."
Ms. Goldberg was born in South Africa, where she studied dance and political science. She went on to write her dissertation about Oskar Schlemmer, the German artist who worked in a variety of mediums and influenced the Bauhaus school's idea of interdisciplinary practice. She combed through Schlemmer's diaries—struggling through the complex German—and identified with his theory of performance.
"He said, 'I have two souls in my breast,'" Ms. Goldberg explained. "One was Apollo, the other was Dionysus. Drawing was his intellectual life—his Apollo—and Dionysus was his theater side. He combined both as part of his workshop at the Bauhaus."
One of his most famous pieces was called Meta or the Pantomime of Scenes. It featured a plot "freed from all accessories," with performers carrying signs that read "entrance," "intermission," "climax" as they silently carried out the suggestion of those cues.
The artists in Performa imbibe all this ephemera under Ms. Goldberg's guidance, learning the history of performance even as they contribute to it. For instance, Ms. Brown, whose Battle of Yestermorrow tells a kabuki-style story through elements of modern and classical dance, compares her commissioned work to a fairy tale. It follows K, an androgynous character who escapes a lover who has mistreated her—off stage, as is the case with most mistreaters in kabuki—and visits her family gravesite to pay homage to her ancestors before setting out on the rest of her life. There she runs into the arms of another wrongdoer. At Salon 94, the preview was of the middle section, as the attendants lead K to the graveyard. It's a subdued section, but Ms. Brown was tense. She is a painter, and is not used to showing a work before it is finished.
"I felt drained afterward," Ms. Brown told The Observer on the phone several weeks after the first preview. "Performance is a different animal."
Even in this preliminary stage, the piece was unsettling. And that, Ms. Goldberg's says, is one of the main objectives of Performa—to present some kind of challenge for both the viewer and the performer. When The Observer asked her about the ubiquity of performance art and its ever-increasing popularity, Ms. Goldberg said that what this demonstrates is not performance art having sold out, but the rest of the world finally catching up to it.
"I wouldn't say it's mainstream," Ms. Goldberg said, returning to a word that irks her. "Because obviously I would run a mile from that. That's not interesting to me. I'm looking for real inventions. It should be about this moment in time. There's such risk taking here, it's hardly mainstream. I mean, I can tell you about the projects we have for '11 but not one of them really exists yet." She paused. "And they won't exist until the night before."