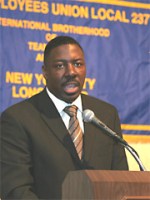 In a move that would surely shake-up the 2013 field, Teamsters president Greg Floyd has filed paperwork to run for mayor.
The news was first reported by Errol Louis on his Twitter feed.
In an interview, Mr. Floyd said that he was considering running because, "the middle class continue to be sacrificed in this economy. I am running to make things better."
He added, "Someone has to take up this cause and this agenda. There has to be someone out there who is advocating for working men and women."
Mr. Floyd's assertion may surprise many who follow New York City politics, since most of the 2013 candidates–John Liu, Bill de Blasio, Christine Quinn and Scott Stringer–are, if anything often accused of being too close to labor.
And despite his asserting that someone has to take up the cause of working people, Mr. Floyd declined to say if any of his prospective opponents were blind to the concerns of labor.
"They are coming from a different perspective than I am coming from. I am a working person. I advocate for women men and women every day. These are my natural constituents."
Mr. Floyd could have a major impact on the race. Although Bill Thompson has said he is running again after coming close to toppling Mayor Michael Bloomberg in 2009, he has continued to keep a low-profile. If Mr. Thompson decides not to run, Mr. Floyd would be the only African-American in a race in which black voters are expected to make up to a quarter of the electorate.  His presence in the race could also dissuade other potential African American candidates, like Brooklyn Assemblyman Hakeem Jeffries, from running.
Mr. Floyd said he was inspired to run after watching the results of the 9th Congressional District last month, in which Democrat David Weprin lost in an upset to Republican Bob Turner.
Afterwards, he said, people said that the reason Weprin "lost that race was because the labor movement in the city is no longer relevant to politics. I don't see where labor should be responsible for that race when there other factors."
One complication for Mr. Floyd however is that he does not actually live in New York City. He moved out to Nassau County 12 years ago because, he said, he and his wife couldn't afford to buy an apartment in Queens.
"I work in New York City every day. I was born in New York City. I was raised in New York City. I went to New York City public schools. I lived in New York City."
The Bloomberg administration has come under criticism in recent weeks after it was revealed that a handful of top deputies like Robert Steel, Shea Fink and former deputy mayor  Stephen Goldsmith live out of state.
Mr. Floyd said he didn't have a problem with those officials living outside of New York City, and said that if he won he would move back to New York City.
"I am not trying to hide anything. Would I move back? I would have to."
Mr. Floyd added that he would make a final decision on whether or not he would run for mayor sometime over the next several months, after he gauges how much enthusiasm there is for his campaign.