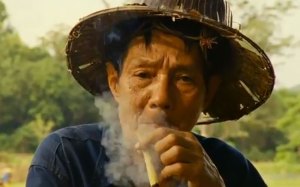 The debut film by New York-based artist Rirkrit Tiravanija will premiere at the Venice Film Festival this weekend. The film, Lung Neaw Visits His Neighbours, marks the Thai-born artist's first directorial effort.  Mr. Tiravanija is best known for his installations, which usually feature him cooking for his visitors.
The film was shot in a documentary style and the title seems to be truth in advertising. Here's the synopsis.
We follow Lung Neaw, living off the land, visiting neighbors, in a world of simple realities and compassion for his environment and fellow villagers. We see the basic truths of a humble man, another man making our world turn, to a better revolution.
See for yourself in the trailer below.