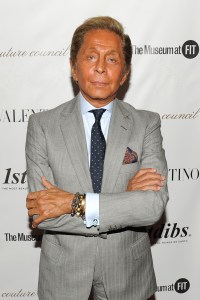 Glamorous guests began flooding the lobby of the David H. Koch Theater at Lincoln Center around 11:30 last Tuesday. They had congregated on the occasion of the highly anticipated Couture Council luncheon, this year honoring the well-tanned legend of women's fashion, Valentino Garavani. A row of waiters in daper white tails held trays of white wine and water, refreshingly accented with neat wedges of lime, for parched fashion patrons, who slowly made their made their way up the staircase in couture gowns and soaring heels.
Within half an hour, the crowd had grown to an enormous congregation of high-society movers and shakers, all giddy with excitement. Guests kissed each other on the cheek twice à la française, apparently trying to channel the romance of Paris on the soggy New York afternoon.
The guest list was an impressive catalog of New York's philanthropic and social elite. Lizzie Tisch, Cece Cord, Beth DeWoody, Karen LeFrak, Chiu-Ti Jansen, Anne Bass and Sharon Bush rubbed shoulders with the fashion icons like Iris Apfel, Diane von Furstenberg, Tamara Mellon and, of course, Valentino himself.
We spotted Kobe Bryant and his wife, Vanessa, across the room. Mr. Bryant, who lived in Italy as a child, wore an Italian suit, a sharp Dolce & Gabanna ensemble, while Mrs. Bryant looked particularly festive in her red, ruffled Valentino number. We asked Mr. Bryant how it feels to be a fashion-conscious athlete. "I mean it's a good feeling. You always try to represent yourself well when you're out and about," he said, quickly walking up the stairs to find his seat.
Meanwhile, jewelry designer Judith Ripka was chatting with guests and dutifully informing them of her new book. "Its about the hardworking life, where I am this moment," Ms. Ripka told The Observer of the tome. Flashing some of her own pieces, Ms. Ripka's bejeweled neck, collar, fingers and wrists twinkled exhuberantly as nearby flashbulbs snapped photos of arriving guests. "Coming here today is so good for business because Valentino is so exciting and he made the couture business happen," she said. As we attempted to parse this, Ms. Ripka flagged down the first lady of Fashion Week herself, Stephanie Winston Wolkoff. "Stephanie's amazing, as I'm sure you know," said Ms. Ripka by way of introduction.
Ms. Winston Wolkoff towered above other attendees, in her heels and pink Michael Kors pantsuit, giving Mr. Bryant a run for his money in the height department. Although appearing composed and immaculately groomed, Ms. Winston Wolkoff admitted she had been working round the clock to prepare for Fashion Week. "It's been crazy. It's wonderful. It's busy. It's exciting," she told The Observer of the planning. "A lot of heavy lifting." Naturally, she was being figurative but we amused ourselves imagining the Fashion Week big boss lugging garment bags and carrying shoe racks around Lincoln Center. Ms. Winton Wolkoff had been busy, however, working to make Fashion Week less exclusive and more accessible to fashionistas from all walks of life. "It's just exploring all these different ways of opening it up and getting rid of those red velvet ropes a little bit," she said before disappearing into a crowd of admiring society ladies.