OMMs say: 'The "family' company is running an ad for their new Oreo Fudge Cremes with the phrase "Shut the Front Door."In today's teen jargon, that phrase is a euphemism for "Shut the F*@k Up!"
jhanasobserver
OMMs say: "The tagline for the new Dentyne Ice commercial is 'Practice Safe Breath' and portrays a condom commercial 'practicing safe sex' rather than one for gum. In the heat of the moment while two young people are making out, the girl stops him to ask if he has anything. He says yes and takes out of his pocket a package of gum. Up to this point, it appears to be a commercial for condoms. His packet of gum is empty so he runs to the store to buy more.
jhanasobserver
OMMs say: "Their newest commercial has Jack stopping by his parent's house for a visit. While talking with his mom in the kitchen, his dad runs in and says, 'Call the doctor! It has been more than four hours!' and looks down. Jack says, 'I gotta go!' because he is embarrassed along with anyone who is viewing this commercial."
jhanasobserver
OMMs say: "Currently Febreze has a "Breathe Happy" ad running with God's name used in vain numerous times, and many Christians find this offensive. The commercial has two women who say, "Oh, my God!" several times in the ad. Another word could have been used to show surprise or shock by these women. Almost any other dialogue would have been better than this."
jhanasobserver
Not actually gay, but surely happy for them
OMMs say: "PBS should not even entertain the idea of a Gay Wedding on a Children's Show!"
jhanasobserver
OMMs say: "The parents appear to reconcile in the end, but during the movie Gabe's separated parents are still living in the same apartment while his dad sleeps on the sofa and his mom is going out on a date with another man. Towards the end of the movie while the children are attending a wedding, Rosemary asks Gabe to dance. His response was, "What the hell?!" While they danced the groom is dancing with his bride who is obviously nine months pregnant in the background."
jhanasobserver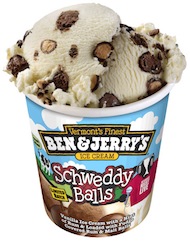 Schweddy Balls, a new Ben and Jerry's flavor that actually sounds pretty unpalatable, is coming under some heavy fire from a group called One Million Moms, for its "vulgar new flavor." To be fair, it's just the name that sounds gross, right? Not the flavor?
Well, OMM is associated with right-wing Christian group the American Family Association, which would obviously have a problem with a flavor based on a Saturday Night Live sketch based on Alec Baldwin and NPR. This group also has a petition boycotting just about every other food/apparel/entertainment item on the market.

The One Million Mom's website breaks down their Schweddy Balls argument on their website:
The name originated from a Saturday Night Live skit featuring Alec Baldwin as Pete Schweddy, owner of a holiday bakery called Season's Eatings. "There are lots of great treats this time of year," Schweddy says. "Zucchini bread, fruitcake, but the thing I most like to bring out at this time of the year are my balls."

He then explains that he sells popcorn balls, cheese balls, rum balls—balls for every taste—and the ball puns proceed for about four minutes. Ben & Jerry's chose to go with fudge-covered rum and malt balls for their flavor. The skit culminates in Baldwin stating that "No one can resist my Schweddy Balls."

In the past, Ben & Jerry's has released controversial ice creams, like a special edition of Chubby Hubby called Hubby Hubby last year which celebrated gay marriage. It seems that offending customers has become an annual tradition for Ben & Jerry's.

The ice cream is being released in a limited batch, which means it will be distributed nationwide but only for three or four months. If it proves popular, another batch might be forthcoming, but we hope not.

"The name is irreverent," says Ben & Jerry's spokesman Sean Greenwood. "But we've always been about having some irreverence and having some fun … We're not trying to offend people. Our fans get the humor."
The original "SchweddyBalls skit":
We wonder how OMM would feel about a Big Gay Ice Cream Shop?