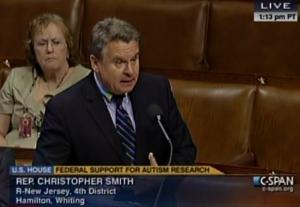 The U.S. House of Representatives today passed a measure that will extend funding for autism research, detection and awareness for another three years.
The bipartisan bill authored by Congressman Chris Smith (NJ-04) passed unanimously in a voice vote. Despite the measure's smooth sailing in the House, a Senate version of the bill was blocked by conservative Republicans who objected to "disease specific" funding. U.S. Sen. Jim DeMint (R-SC) has put a hold on the bill in the upper house.
"This legislation is critically important to continue without interruption the progress we have made in understanding autism and in developing interventions that will have the greatest impact in helping individuals affected by autism or another developmental disability," said Smith. "When I first got elected to Congress in 1980, the community accepted that autism prevalence rates in the United States were 3 in 10,000. Today, it is estimated to be 1 in 110, and in some places like New Jersey, 1 in 94 – for a total of 1.5 million individuals in the United States, and autism is on the rise everywhere."
Smith and U.S. Rep. Mike Doyle (PA-14), the prime cosponsor of the measure, are co-chairs of the bipartisan Coalition on Autism Research and Education (CARE). The new legislation reauthorizes the Combating Autism Act (CAA) of 2006. The reauthorization of CAA would be for an additional three years, through Sept. 30, 2014.
Smith is also the author of the Autism Statistics, Surveillance, Research and Epidemiology Act, which has been in effect for a decade.