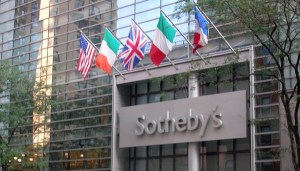 Sotheby's York Avenue headquarters in New York will open a two-floor gallery space called S2 next week with a private selling show of the artist Sam Francis.
The show, on display from September 17 through October 14, will inaugurate the new space, which was designed by architect Richard Gluckman. The Francis exhibit is pegged to the artist's catalogue raisonné. They certainly picked a good time for it, too — this spring a Sam Francis, Middle Blue, sold at Christie's for $6.3 million, over a high estimate of $5 million.
The two-floor in-house gallery space actually resembles the Christie's model, and one imagines that they'll resume using their space at Rockefeller Center for similar reasons after Haunch of Venison moves to Chelsea later this month.
[Via Art Market Monitor]