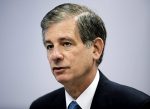 The Post had an explosive story today detailing how former deputy mayor Stephen Goldsmith resigned not because of the bungled blizzard, as was widely assumed, but because of a rather disturbing violent dispute with his wife:
"I should have put a bullet through you years ago!" Margaret, 59, allegedly told Goldsmith, the report revealed.

Stephen Goldsmith then "shoved [Margaret into] the kitchen counter," according to the report.

"You're not going to do this to me again, I'm calling the police," Margaret responded, the report said.

Goldsmith "then grabbed the phone from her hands and threw it onto the ground, breaking the phone. He then grabbed [Margaret] and refused to let her go."

"She kept screaming, 'Let me go, let me go,' " as Stephen refused to let her out of his grasp, according to the report.

"She dug her nails into [Stephen's] forearms," causing him to release Margaret, who then "ran to the other room to call police."
This morning the Goldsmiths have weighed disputing that account and saying that there was no domestic violence that night or any night in their home.
"Because according to the officers DC law requires an arrest, one was made over the objection of my wife and no charges were ever filed," Mr. Gold smith said. "Although Margaret under oath has affirmed the absence of violence and my actual innocent I offered my resignation in order to be a distraction to the mayor and his important agenda for the city."
His wife concurs.
"There were no injuries," she said. "There has never been any kind of domestic assault or violence in our marriage. The police report is a summary of what discussions occurred that evening in our home, and those comments have been misconstrued as well as taken out of context."