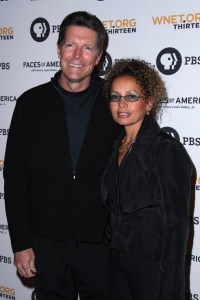 Stone Phillips has given up his golden key. The former NBC correspondent and his wife, Debra, have sold their home at 45 Gramercy Park North, officially relinquishing his key to the private and hyper-exclusive Gramercy Park.
Mr. Phillips purchased the home just last year, which had come on the market for the first time since the 1960s. He spent $4.9 million on the place back then, but made a comfortable profit selling it for $5.7 million two weeks ago.
In his listing, Corcoran broker Steven Cohen notes the 2-bedroom, 2.5-bath home's "Palatial outdoor space," the exact measurements of which The Observer was unable to discern from the hand-drawn floor plan that looks more like an impressionistic sketch than a legitimate layout. The terrace wraps around the entire penthouse, however, with access from the master bedroom, the living room and the second bedroom, so however big it is, it must be nice—with all that outdoor space, who needs Gramercy Park.
Mr. Cohen's listing describes the apartment as a "highly coveted trophy property," and with a personal washer and dryer, sprawling views of the city and a wood burning fireplace, we are inclined to agree.
The home was purchased by Michael Goodwin, a financier who currently lives in Bedford Corners, NY. Mr. Goodwin is a managing partner at Bluefin Companies, a financial services group he founded in 2001.
Correction: In a previous version of this post, Mr. Phillip's name was misspelled with only one "l." The Observer regrets the error.
eknutsen@observer.com