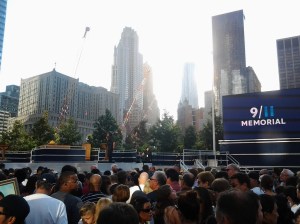 It is a beautiful morning here at ground zero, full of smiles, hugs and tears. The sky is nearly as clear as it was on that tragic day a decade ago.
The families and friends are anxious to be let into the recently completed first section of the memorial. Many have told The Observer the memorial is one of the main reasons they came. There is some annoyance the event is so crowded, owing perhaps to the ongoing construction taking up space. This is the first time in a few years the anniversary event has not been held across Church Street in Zucotti Park.
On the way to the site this morning, the first sign we saw of the ceremony was underground. At the Rector Street subway station, new markers for the 9/11 memorial have been affixed to the overhead signs.
At 8:35, the FDNY honor guard marched in, followed by a choir. They presented the ground zero flag, which flew over the site after the attacks. The choir sang the national anthem, then everyone filed out to bagpipes.
Mayor Michhael Bloomberg took the stage at 8:46 and led the first moment of silence, commemorating when the first plane hit the north tower. He was followed by President Obama, who read a poem. He is seated stage right, next to President George W. Bush.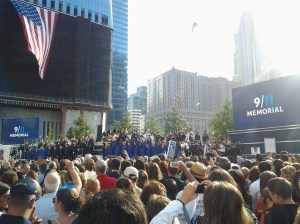 At 8:49, Mayor Bloomberg introduced the name readers. They read at pairs of two lecterns, a dozen names each. The last name is that of their relative, and it is hard not to get choked up hearing their stories. Even in the press pool, many eyes are red. One reader gave "a shout out" to "the men and women rebuilding the World Trade Center." This drew big applause, the first of the day.
Then came the ringing of the bell at 9:02, the second moment of silence. Church bells tolled,
the cascade of the memorial pools could be heard in the background. Flags and portraits were held aloft. No one talked, but the camera shutters were cacophonous.