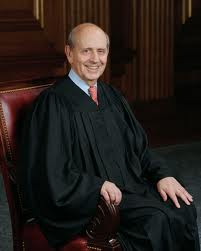 According to the New York Times, Supreme Court Justice Stephen G. Breyer and the architect Zaha Hadid have joined the committee to elect the prestigious Pritzker Prize, architecture's highest accolade.
So you might be thinking, what does a Supreme Court Justice know about architecture beyond working in a building with impressive white columns? It turns out Justic Breyer is an art and architecture aficionado. He wrote the foreword to the 2006 book, Celebrating the Courthouse: A Guide for Architects, Their Clients, and the Public. In it, he wrote:
"Both in function and in design, the buildings architects design will embody and reflect the principles that tell the public who use or see them something about themslelves, their government, and their nation. In so doing, those buildings can help us live together better as a community. Indeed, the story that a building tells through its design may be as important to the community it serves as is its function."
In other words, those white columns are important!
Ms. Hadid won the Pritzker Prize in 2004.
"The members of the Pritzker jury are now, and always have been thoughtful, outstanding individuals from diverse backgrounds providing sometimes surprising insight to architectural achievement in our time," Thomas J. Pritzker, chairman of the Hyatt foundation, the prize's sponsor, told the Times in a statement.