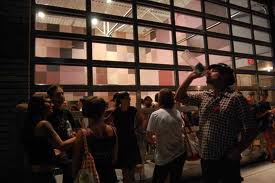 Next week, the Swiss Institute contemporary arts center will move from its current location on third-floor space on Broadway to the nearby 18 Wooster, former home to a larger space of Jeffrey Deitch's Deitch Projects.
"It was a longterm wish to have a storefront," Swiss Institute director and curator Gianni Jetzer told The Observer. "And it's a storefront. We're really looking forward to the exposure and to be much more public because the name 'Swiss Institute' sounds a little bit exclusive."
Mr. Deitch will serve as the Swiss Institute's landlord, and Mr. Jetzer added that he seemed eager to have a nonprofit in the space. The new Swiss Institute space will open with a joint show by artists Pamela Rosenkranz and Nikolas Gambaroff on September 14.