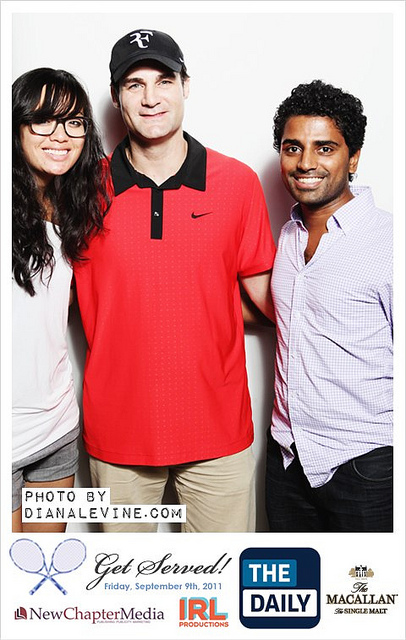 The Observer took in a few rounds of racquet sports last week at the stunning Tennis Club Grand Central, a single court hidden within the train station. The event mixed tennis pros with tech types, including First Round Capital's Charlie O'Donnell and Social Media Week's Toby Daniels.
It was all part of Get Served, a tech-meets-tennis event put on by hostess with the most-est Emily Gannett and her IRL productions. We didn't quite make it to the finals, a doubles match involving AdWeek's Dylan Byers. Sadly Mr. Byers and his partner lost to a pair of stunning sexy-tagenarians, who proved consistency, not power, is the real killer on the court. Better luck next time, Mr. Byers.
After all the balls were played, The Observer joined former Wired writer Eliot Van Buskirk, who now runs the music app blog Evolver.fm, to have our swings recorded and analyzed via video. Mr. Buskirk, a former tennis coach at Harvard, had the better forehand, but we proved once again to be the master of the backhand (compliment).
From there it was off to the bar, where we sipped some 18-year-old cherry oak-aged Macallan single malt and discussed the finer points of startup life with Mr. Red Tie himself Gary Sharma, ER Accelerator's Murat Aktihanoglu.
Ms.  Gannett grabbed us and steered us towards the photo booth. "Get your picture taken with Roger Federer." And there he was, that rough smile, dimpled chin, astonishingly large head. He seemed smaller in real life … and had a bit of a gut.
"Pretty good right? I found him on Craiglist," Ms. Gannett explained of her photo Federer. Personally The Observer would have used Zaarly, but same difference. As we headed out for the night, Foursquare co-founder Naveen Selvadurai was checking in for a photo with Faux Federer. Priceless.