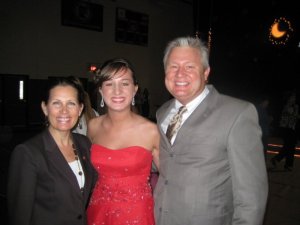 Michele Bachmann's husband, Marcus, knows how to put on a pair of heels. How did we learn this fascinating tidbit about the spouse of the Minnesota Congresswoman and Republican Presidential candidate? We found it on Facebook (META) courtesy of Bachmann's daughter.
Bachmann's staff clearly has some lessons left to learn about the internet. This apparent lack of social media savvy is especially interesting given the recent signs her campaign may be in disarray. We're here to help — and we don't charge billable hours. You're welcome Michelle Bachmann.
Even though the media has already scrutinized the Facebook profile of Bachmann's eldest son, he and two of her other five biological children have searchable pages on the social networking site. In March, The Daily Beast published details gleaned from the Facebook profile of Lucas Bachmann, who it described as one of Bachmann's "closest advisers." The Beast noted two of Lucas' three selected interests on Facebook; "India" and conservative thinker "William F. Buckley" to make the point that Lucas' "political hero" is "decidedly un-Bachmann-like."
Bachmann shouldn't have been blindsided by a media outlet using her son's Facebook to write an unflattering article about her. In this day and age, campaign advisers should be schooled in the damage that can be done from an uncalculated quote or, worse yet, an indiscreet photo posted on a social media site.
Everyone should be free enjoy the unique pleasures of poking, stalking and playing mindless games of Farmville that come with unrestricted membership on a social media site, but we live in an unfair world. For better or worse, the families of presidential candidates should be coached to expect this level of scrutiny during a White House run and taught how to avoid it. Despite their modern media lesson from the Daily Beast, her children still haven't been taught to maintain their privacy online. Someone on Bachmann's staff dropped the ball here.
The pictures and details visible on the Facebook pages of the Bachmann children are relatively harmless. They're certainly not a social media faux pas along the lines of Anthony Weiner's infamous naked Twitter pictures, Willow Palin's homophobic tirade or Oregon Rep. David Wu's crazypants emails, but these glimpses into Bachmann's home life are unseemly cracks in the managed public facade that all politicians should seek to project on the campaign trail.
Lucas Bachmann's Facebook profile is still searchable. Along with his interest in Buckley and India there's a picture of him standing in front of a poster of Andy Warhol's "Triple Elvis" print wearing what appears to be a Johnny Cash t-shirt. Curious onlookers can contact him or view his "basic information," where he describes himself as "Trying to figure out my life after two years of being on pause!" That's hardly the kind of image a top advisor to a presidential candidate should be conveying a little over a year before the election.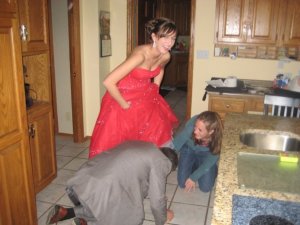 Visitors to Lucas' Facebook profile can also see his list of friends, which includes the pages of his brother, Harrison, and his sister, Elisa. Those pages can be used to contact Elisa and Harrison, and also be used to view private Bachmann family photos. Elisa's page includes a publicly visible photo album of her senior prom in 2008 with a rather awkward picture of Marcus Bachmann and her sister kneeling at her feet to help her put on her heels.
"How many Bachmanns does it take to put a shoe on?" asks Elisa's caption for the prom picture. A fascinating question indeed!