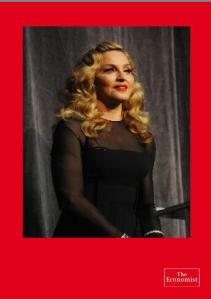 Well this is the best press release to land in our Inbox in awhile, courtesy of The Economist. Be advised, this was the entirety of the e-mail:
Subject: Madonna On Berlusconi

"What do I think of Berlusconi? I don't want to talk about that. But the English weekly The Economist has already said it all, right?" This statement, which was made by Madonna when asked about the Italian Prime Minister, was initially printed in Oggi magazine, an Italian publication."
First of all, a little context, please. What did The Economist say about Silvio Berlusconi that Madonna agrees with? It's not like the paper is subtle in its decade-long denouncement of the Prime Minister, but that's just like saying "I agree with McSweeney's about fiction." That statement is totally devoid of any facts or opinions, except that we now know Madonna is able to name-drop The Economist and that in turn is impressive enough to the paper to warrant an entire PR campaign hinged on the pop star not wanting to talk about Berlusconi. Which is weird when you think about it, because who doesn't want to hear Madonna's thoughts on the Italian Prime Minister? The Economist's incredible pride over being referenced by Madonna in a foreign newspaper is totally warranted.
Anyway, Madonna can't talk about it right now. Please refer yourself to the paper, so it can refer you to Madonna's statement, which will refer you to the paper. Its like an infinite reflection of a black hole featuring a quarterly tech section.
For the record, Oggi magazine clarified The Economist's position a little better than Madonna or the press release itself. (Excuse the Google Translate):
"What I think of Berlusconi? I would not talk about it now. But the British weekly The Economist said it all, right? " Madonna said the weekly on newsstands today, which devotes its cover to the great American artist. Today in the exclusive interview granted to and dealing primarily with his film presented at the Venice Film Festival, WE, Madonna is also a reference to the Italian political situation and the famous cover of the Economist survey on the Italian prime minister: "Why is unfit to govern the 'Italy. "
See? Way more sense regarding Madonna's position re: Economist and Italian Prime Minister. Even if the title they took is technically from 2001.