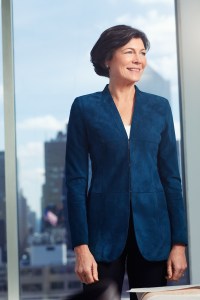 In 1996, she made a transition to public work as Assistant Secretary to then governor, George Pataki. After brief stints at Keyspan Energy and the Long Island Power Authority (where she served as CFO) she returned to Governor Pataki's office as Deputy Secretary and became Superintendent of Banks in 2003.
In 2007, she returned to the private sector as a managing director at Wolfensohn Fund Management, but still hasn't fully extricated herself from public life.
And how could she?  She's partner to the most powerful man in New York City politics. Which has its particular downsides. "Oh it's hilarious," she laughed. "I have the scars to prove how many times I've been knocked over the head by TV cameras running to get a picture of the mayor." But, she notes, it's also not without its pleasures. "Actually I love observing life," she explains. "And it's a great place to observe from. You see a lot in this kind of position and it's incredibly rewarding."
That said, the reality is that when Ms. Taylor walks into a room with the Mayor, she's not recognized as Diana Taylor, managing director at Wolfensohn, or Diana Taylor, former Deputy Secretary to the governor. She's Diana Taylor, girlfriend of Michael Bloomberg.  For a woman with her own impressive resume and laundry list of accomplishments, it must be a little, well… ego-bruising.
But Ms. Taylor insisted it was just part of the role she had chosen to play. "One of the things that you just need to remember is that it's not about you," she said. "He's the elected official and you're there for support. And if people want you to do something, you do it and if they don't, you don't.  He's the one who was elected and I wasn't."
But, she acknowledged, "That's one reason why it's really good that I'm busy. He's doing his thing and I have my life, too, and things that are important to me."
And many things are important to Ms. Taylor these days. She's on the board of ACCION International, a microfinancing organization that provides loans to small businesses that are under-serviced by banks in emerging economies and recently visited Brazil and Honduras on behalf of the organization. In June she was named to the board of the YMCA of Greater New York. She's a director of Sotheby's, Citigroup and Brookfield Properties.
She's also involved in a variety of charities that benefit women and girls. And she's a natural advocate, having been one of the few women in a variety of traditionally male-dominated environments.
"I think one of the problem that most women have is that they're not really good at advocating for themselves," she said. "They're great at advocating for other people.  They're hard workers, they're really smart but they're not very good about marching into their boss's offices and saying 'I need a raise! So-and-so got a raise and I work better and harder than they do and am more productive than they are. Women are just not particularly good at that." It was a broad generalization, she said, but "women tend to have the attitude that, 'if I put my head down, I work really hard, I'll get recognized'. And life is not fair. That's a hard thing."
She attributed much of the gender lopsided-ness to natural attrition rates as women dropped out of the work force in order to have children. "A lot of time you find it's a decision they make to have a family. And they're bringing up kids and working and something's gotta give, and the work's not rewarding enough and they're not getting enough back from their work situation, so they say, you know what? I can't."
Her own decisions were made years ago—what she described as organizing a series of priorities. And for better or worse, being childless probably helped her career. "I'm sure it did," she said. "I never had to run home and help anybody with their homework. That was a whole very time-consuming aspect I didn't have to worry about. "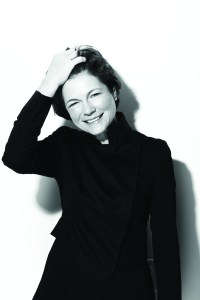 But, she adds, "you have to do what you're comfortable with and what makes you happy and that's not the same for everybody."
And in looking at Ms. Taylor's choices, the ones paths she decided not to take are as significant as the ones she did.  Last year, Senate Republicans approached Ms. Taylor about the possibility of running against incumbent Senator Kirsten Gillibrand, and for a while she considered it. "The Senate Republicans basically asked me to run and I thought about it, talked to a lot of people," she said. "But then when I really thought about it, what attracted me to the idea was the race because I knew I could win that race. It was the thought of actually having to go and do that job, that was really not all that appealing."
When asked what she thought of Senator Gillibrand's job performance now, she paused. "I think she works very hard" she said, diplomatically. "I don't agree with her on anything—" She hesitated. "Some things that…" Then choosing the if-you-can't-say-something-nice option, she reiterated: "I think she just works really hard."
But Ms. Taylor insisted she wasn't tempted to run against her now either. She said she had no political ambitions. "I never did!"
She also brought up a complicating factor in any Senate—the convoluted and often antagonistic relationship between the city and the state. "Because what's good for the state of New York and what's good for the city of New York are not always aligned and I'd be representing the state.
"Plus, I'd have to go live in Washington?" she said, rolling her eyes. "And you know, what would I do with the dogs? Would I take them on the train? Would I have to drive? These are the kinds of considerations!"
Then she turned serious. "You're one of a body of 100. I would be a very junior member of the minority party and I didn't feel like I'd have a lot of say in what went on and the decisions that were made. And I don't have a particularly high opinion of Congress at this point."
We pointed out that no one had a particularly high opinion of Congress at this point. (A recent Gallup poll indicated that Congress's approval rate had dropped to a measly 13%.)
"Then I hold the majority opinion on that, l and I think that we're in a situation now where it's sort of a downward spiral," she said. "You know, the opinion of the body itself is so bad, how do you get qualified intelligent good people to run? I don't know the answer to that question."