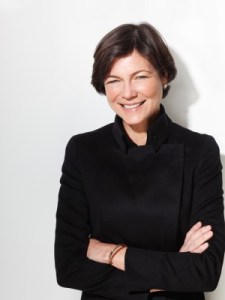 It was a sunny September afternoon at the mayor's house on East 79th street and Diana Taylor was talking to the two boisterous Laborador retrievers that she shares with her boyfriend, Mayor Michael Bloomberg. "Yes!" she said, in a soothing voice the "Bonnie" and "Clyde" seemed to appreciate, "I'm talking about you!"
She had been describing her early morning hour-and-a-half walks with the dogs (which she bought for the Mayor four years ago) and extolling the virtues of Central Park in that sort of breathless-but-genuine tone that all New Yorkers adopt when speaking appreciatively about Things That Also Impress The Tourists. "Central Park is the most amazing gift," she said. "It's incredible. You find new spots, new people, new friends for the dogs. I love going to parks."
But she wasn't as bubbly as the sentiment would suggest. She erupted in a rare peal of laughter—"Oh my god, that was hilarious!"– only when asked about the Mayor's Spanish speaking skills and the parody Twitter account @elBloombito, which exhorted New Yorkers during Hurricane Irena to "no looto el bodaga! Esta es Nuevo Yorko!" (She explained his technical proficiency despite abysmal pronunciation: he's an engineer; they are very technical.)
As we sat at small table next to the kitchen, she spoke softly but directly, carefully considering everything she was saying.  A tall, charismatic figure who often appears to tower over her high-profile partner at public events, her demeanor was warm but professional.
And it makes sense. Until 2000, when she was seated next to the Mayor at a Citizens Budget Commission event, Ms. Taylor's career was the most recognizable facet of her public identity. If her tone seems professional—comforting in one sense, and perhaps a bit over-polished in another–it's because it's the mode in which she's accustomed to operating.
Before she met the Mayor, Ms. Taylor had occupied several high profile job positions in both the public and the private sector and was divorced, with no children.
She still holds several high profile positions and is still divorced with no children, but it's probably fair to say that her day-to-day life now has several added dimensions that weren't there before. Her social life is determined in many ways by the schedule of her partner and nights out (downtown for events, Harlem for dinner at the Red Rooster) are now routinely documented by photographers.
And of course this means Ms. Taylor is being scrutinized in ways she previously wouldn't have expected.  Her fondness for tailored, elegant clothing has been noted in various fashion pages and her favorite designers (Oscar de la Renta, Carolina Herrera, Ralphs Rucci and Lauren, natch) have been catalogued for the public. But  the look isn't entirely comfortable for the first girlfriend. Our photographer assumed that her consistent, well-put together look was the work of a personal stylist and Ms. Taylor seemed taken aback by the idea.
"My what?" she said, laughing. Stylist? "You're talking to her!"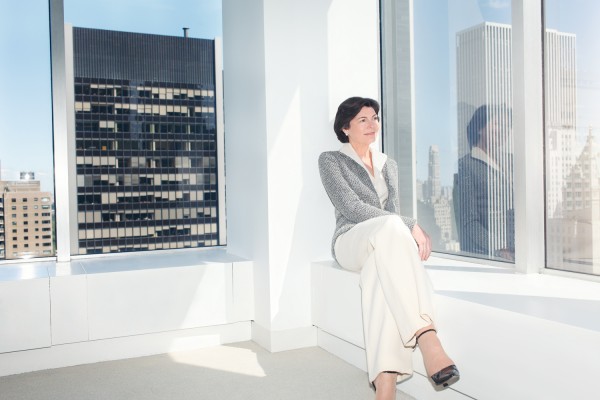 But, she acknowledged, she did have her own personal style. "I like simple, not too frilly, tailored." And then, with a tiny sparkle of calculation: "And my favorite designers are New York City based designers. So that makes it easy because they're mostly tailored and elegant clothes."  We pointed out that the Greenwich native's taste in clothing seemed very, well, Greenwich-ian. "Yeah, I know," she said. "[But] let me put it to you this way: I basically wore overalls all the way through college. I mean, you just try and present yourself as being neat, fairly well put-together. You try to make sure your shoes are from the same pair."
She then informed us that she'd be wearing a business suit for her photo shoot. "I'm not wearing an evening gown; it's the wrong image." The scads of evening gown photos are not how she views herself, or at the very least, not how she wishes to present herself. "There are enough pictures like that, so I'll just wear a simple business suit.
Diana Taylor was born in 1955 in the upscale Connecticut suburb of Greenwich, Connecticut, the daughter of a schoolteacher and a biochemist for Union Carbide chemical company.
She went to college at Dartmouth and was in the second class of women to go all the way through all four years. "There were two hundred of us, or maybe three hundred of us," she said "And three thousand of them at the time." Not entirely a bad ratio in certain respects, she admitted. "It was so much fun. I had a blast; I loved it. And my best friends to this day are people I met my first week at Dartmouth." (Ms. Taylor is now a member of her alma mater's board of trustees.
Much of what happened after Dartmouth was a matter of serendipity. "I have basically fallen into everything I've ever done," she said. "I've never really planned anything. I've basically seen opportunities as they come up and they've turned out to be really good ones.
But there was one thing she planned: "I knew was that I wanted to move to New York City [after college]" she said. Like many twenty-somethings who decamp to Manhattan after undergrad, Mr. Taylor's roommate from Dartmouth was living in a one-bedroom apartment with one other roommate and they were looking for a third.  But Ms. Taylor needed to find a job. She was interested in health care and began sending resumes to hospitals but "unfortunately none of them wanted me as their hospital administrator at that point." She got a job in government in the department of social services but realized quickly that it wasn't where she wanted to end up, so she applied to business school in a joint degree program that also included a public health degree.
But she was still working on top of that. "I was an evening and weekend administrator at St. Vincent's hospital in Brooklyn, which was an experience," she said. "It was fascinating." She was also working at Smith Barney in their public finance department and received an offer for a full-time job when she graduated. She moved on to Lehmann Brothers with a couple of her colleagues from Smith Barney, and then on to Donaldson Lufkin & Jenrette.  And then a couple of guys from Lehman went to DLJ and they took me with them. "And then some guy I didn't even know at the time called me up [four years later]," she explained, "And said 'I'm starting this new firm do you want to come join?' And I'd basically hit the ceiling, if you will, at DLJ and it sounded like a good idea, so I did that. Stuff happens at really good times!"