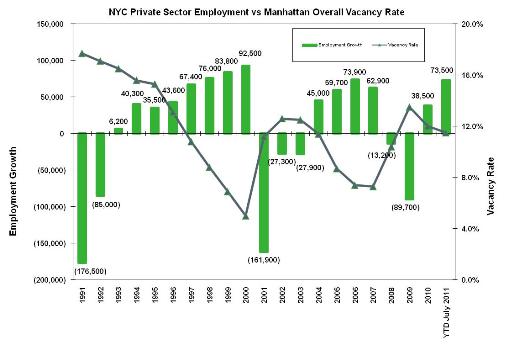 Cassidy Turley research guru Robert Sammons on private-sector job gains and the Manhattan office market:
What double-dip recession? What jobless recovery? There has been so much doom-and-gloom economic rhetoric circling the globe lately that the new jobs numbers just released by the City Comptroller's Office appear, on the surface, to be totally contradictory. Figures for 2011 through July show that New York City has added 73,500 private sector jobs, though this number is, as always, subject to revision. And, more than likely we will see that revision as education positions were up a whopping 13,300 in the month of July alone and are sure to be adjusted lower as the year moves along.
That said, when education is taken out of the mix all together, the city still added some 6,000 private-sector jobs during the month.
And it wasn't just July that saw a bump in the numbers, either, as the city has gained private-sector jobs each month in 2011–as few as 1,200 in May and as many as 21,800 in January. But there have been chinks appearing in the New York's armor with both banking and securities dropping jobs for the last three months in a row. Professional services, though, has rocketed higher; and information services, after a couple of down months, has turned the corner and is now positive for the year. Even the dear, old real estate sector has added jobs in five of the last seven months.
Of course, jobs numbers are not forward looking and, if better economic news doesn't appear on the horizon soon, the local figures are bound to weaken.